Discover Our EHR-Based Medtech Marketing Solutions at MedDev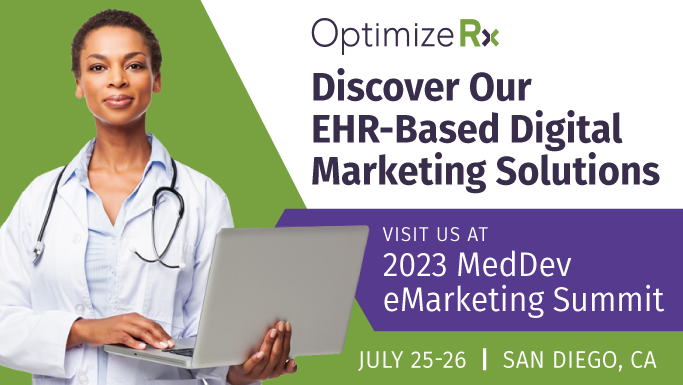 How can medical device brands improve HCP engagement with EHR-based digital strategies?

The healthcare industry has experienced dramatic changes in communication technology in recent years, evolving to meet the shifting needs of brands embracing digital-first approaches to medical device marketing. As medtech brands adapt to these changes, utilizing targeted digital strategies for healthcare provider (HCP) engagement is more crucial than ever. But how can your medical device brand effectively engage with HCPs during the patient journey when care decisions are being made?
Join us at MedDev 2023, where we'll be sharing insights on how brands can invest in electronic health record (EHR) technology solutions and target the right providers at the right time, seamlessly connecting with HCPs directly in the physician workflow.
Through OptimizeRx's EHR-based solutions, medical device brands can leverage highly-targeted digital strategies to stay top-of-mind for physicians during key touchpoints in the healthcare journey. Your brand can easily create new opportunities to engage with HCPs closely, providing value at every stage of the patient journey by:
Sending highly-targeted, timely device messages in the EHR when physicians are making care decisions

Educating HCPs and patients on expected costs and financial assistance programs

Raising awareness about newly-launched products
Don't miss the "Harnessing the Power of the EHR to Accelerate Physician Engagement and Patient Acquisition" session, where our Chief Communication Officer, Steve Silvestro, will be sharing real-world case study results from our collaboration with a newly-launched device brand, resulting in a 200% return on investment.
If you're planning to attend MedDev 2023, we'd welcome the chance to support your medical device marketing strategies with data-driven digital solutions. Book a meeting with our team to discover all we can do to streamline your HCP engagement and increase your brand reach with our network of over 700k providers in the EHR and beyond.