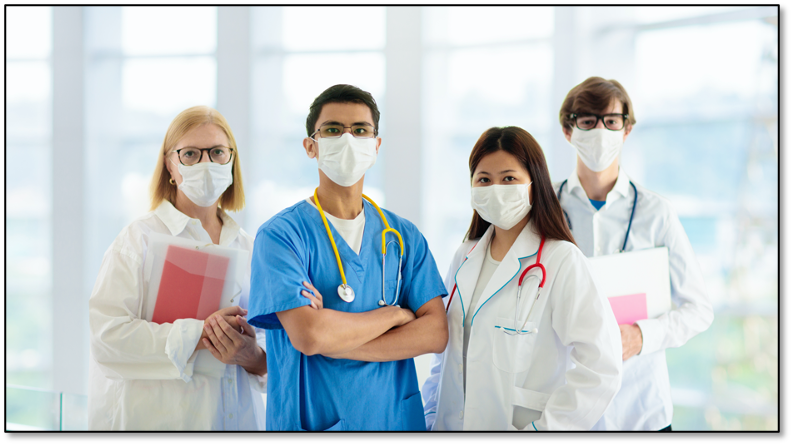 What's really happening in the EHR during the coronavirus pandemic?

What a difference a month makes.
In a short time, our lives have been upended. Personally, and professionally, it's unlikely things will be the same. All of us in healthcare feel for the doctors, nurses, and healthcare staff battling on the front line in hospitals. Along with those healthcare professionals in the community responding to this new environment and continuing to care for their patient's needs the best they can.
At the same time, we're fortunate healthcare technology, digital pathways, and innovation offer our best hope for recovery. Those that have planned or implemented digital care and communication plans should be encouraged by their decisions. It is hard work many others will have to quickly implement. For those trying to figure it out, take a look at our Digital Health Start Up Guide.
Our point-of-care technology and expansive network of EHR partners across healthcare gives us a unique insight into the impact of COVID-19 on the delivery of drugs and medical devices. Here are a few things we think you should know:
While physician office visits are down, changes in prescribing behaviors and the rapid adoption of virtual healthcare have enabled patients to continue to have access to the treatments they need. The provider's EHR is still utilized during a telehealth visit in the same ways it is used in physical visits.

Physicians and patients have increased needs for drug information and services, and they need this information in a digital touchpoint.

Engagement on the OptimizeRx Platform spiked at the start of social distancing and remains strong.

Patient engagement, support, and care management usage has remained steady or increased depending on the population and therapeutic support use case.
Physicians are e-prescribing longer supplies and prescribing treatments without an in-person consultation.


A survey of 500 physicians conducted by healthcare agency AbelsonTaylor recently published in Medical Marketing and Media (MM&M) shows physicians are continuing to ensure patients receive the treatments they need during this outbreak.[1]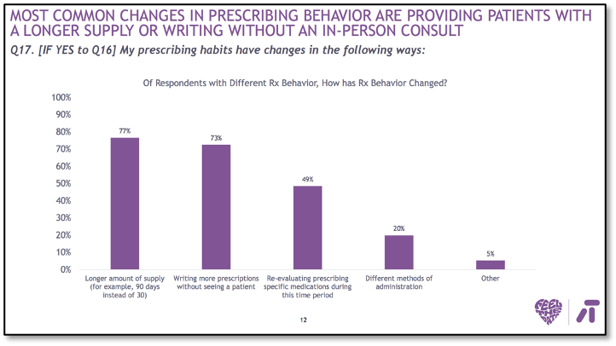 40% of survey respondents said they have changed their prescribing habits and report writing longer supplies such as a 90-day prescription instead of 30-days.
They also report prescribing treatments without an in-person consultation. There's been an unprecedented adoption of virtual visits. Three out of four survey respondents reported increased use of alternative methods to communicate with patients, with telemedicine services (106%) and video chat (159%) experiencing the biggest jumps in usage.
IQVIA is providing a report to the public monitoring the impact of COVID-19 on the pharmaceutical market. While it shows an overall decline in treatment initiations, specialists treating acute symptomatic diseases continue to initiate new prescription therapy.[2]
Physicians need treatment protocol information for someone on a certain brand and diagnosed with COVID-19. They also need patient treatment support.


The same AbelsonTaylor survey mentioned earlier shows physicians are pretty clear about what they want; 42% of physicians reported needing treatment protocol information for patients on a certain product and diagnosed with COVID-19.
They also report the level of patient support materials they are receiving has sharply declined with the decrease in personal promotion representative visits. More than 80% said they did not receive any new materials during the past week.
"There are touchpoints that some pharma partners could put in to ensure patients are adhering to and following through on treatments to manage their own health."

Demand for point-of-care messaging is likely increasing.


It's clear to us that physicians and patients need the messaging and support from our pharma partners that our technology provides. Our point-of-care delivery is an important digital touchpoint needed for virtual visits such as telehealth and video chat. We are in contact with many brands strategizing the right messages needed on the front lines now.
As we move into the next phase of our national strategy to combat the epidemic, physicians and patients need specific support.
Given the impact of COVID-19 on unemployment, patient affordability messaging will become more critical than ever.

As many patients continue to stay home, they will not be able to interact with their healthcare team. Our messaging, such as Refill Alerts, can positively impact adherence and provide an Rx lift as more patients transition to a 90-day supply.

Our Brand Messaging communications can help combat the decline in field sales access and continue to drive awareness with high-value HCPs.
We're all in this together. We should be proud of our medicines and technology have already had such a positive impact as we battle this epidemic. Our continued innovation will lead us through the recovery.
We're proud to have the opportunity to do our part in helping get through this crisis.
We were able to immediately launch a free interactive text message service to provide coronavirus information issued by the Centers for Disease Control and Prevention (CDC) directly to any SMS-enabled mobile device. To date, consumers in 49 states have signed up and are using this service.
We launched TelaRep, an in-workflow option for providers to connect virtually with MSLs and reps.
How should your brand digitally show up differently now? We can help you navigate a plan based on the latest data using your strategy and existing digital communication plans – whether in the EHR or not.
Contact us to see how we can work together to make sure HCPs have the information they need, and that patients have access to treatment during these trying times.

[1] Study: Physicians changing prescribing habits, embracing telemedicine during COVID-19 crisis, Medical, Marketing and Media, April 20, 2020

[2] Monitoring the Impact of COVID-19 on the Pharmaceutical Market, IQVIA, Published April 17, 2020, Data week ending April 3, 2020
---
SVP Marketing and Communications
OptimizeRx Corporation