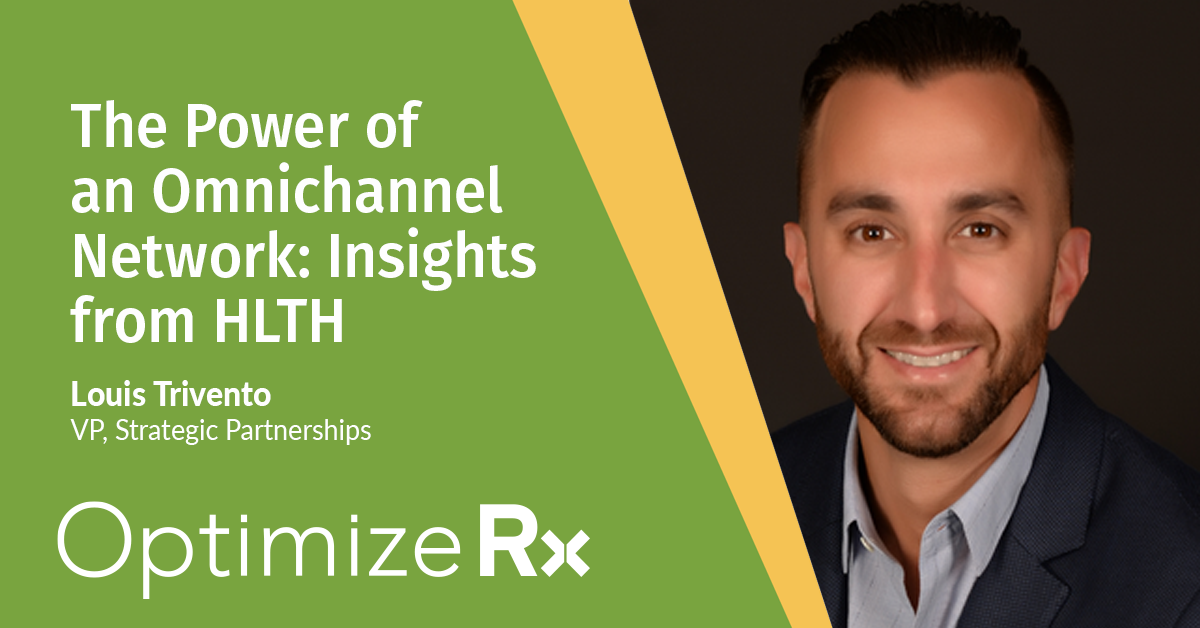 During my recent session at HLTH, I was given the opportunity to speak on the importance of a strong omnichannel strategy and how it can improve HCP engagement.
What is omnichannel and why is it important? At its root, an omnichannel approach enables meaningful engagement across all stakeholders: life sciences companies, physicians, HIT companies, and most importantly, patients.
With an effective omnichannel network that engages all stakeholders, we can support doctors in delivering quality care by providing the information they need, when they need it.
With the continued rise and evolution of technology, traditional methods of engagement face some serious challenges. Even prior to the COVID-19 pandemic, medical science liaisons (MSLs) and pharma reps were having a difficult time connecting with providers. Health systems were shutting them out, and doctors' offices had limited availability. Teams were completely grounded, forced to rely on digital engagement.
"To be fully present throughout the care journey, life science brands need to engage HCPs in two key moments: when they're thinking about care, and when they're delivering care. That's the power of an omnichannel network."
The pandemic taught us this: the days of mass media are no longer valid. We need to be smarter about how we engage our providers, and strategically choose when we engage them.
The Power of an Omnichannel Network

In an information-rich and time-poor environment, physicians managing clinics and treating patients have very little time to track trends and search for additional resources to aid in the care journey. For example, in 1950, it took 50 years to double medical knowledge. Today, it's just 73 days. In order to be meaningful to providers, engagement has to be highly targeted, personalized, and timely.
To be fully present throughout the patient and provider care journey, life science brands need to be engaging with HCPs in two key moments: when they're thinking about care, and when they're delivering care.
This is where the power of an omnichannel network comes into play, as it allows for consistent, relevant information to be delivered at those critical moments. For example, when an HCP is reviewing patient information like lab results or conducting a patient appointment, delivering automated messaging within their EHR can seamlessly engage clinicians and provide valuable insights during the care planning process without disrupting workflows. Your brand can also extend and reinforce key messages on relevant, endemic websites – engaging HCPs while they are researching treatment options – and away from the buzz of the clinic on social media, when they have the opportunity to explore relevant resources at their leisure.
By providing timely, targeted information that best supports the patient care journey, aligns with provider needs, and captures attention at important moments, an omnichannel network helps affirm therapy decisions and drive improved outcomes. The result is a personalized experience and stronger relationships that ensures providers have clinically contextual information during critical moments in the care journey.
OptimizeRx's AI-Directed Omnichannel Workflow

Optimize is part of our name for a reason—we are optimizing the way that the healthcare ecosystem communicates by elevating omnichannel engagement through our network of over 300 EHR partners and over 700K HCPs, without interrupting patient care. And because we use real-world data and artificial intelligence to target and deliver your key messages, life science brands can be confident that HCPs are seeing the most relevant information during significant moments. This seamless communication elevates the user experience for all stakeholders with timely resources that enhance the patient care journey.
We'd welcome the opportunity to discuss how our RWD and AI-driven omnichannel solution, Evidence-Based Physician Engagement, can elevate HCP engagement. Book an initial discussion with our team today.
---
Watch Louis' HLTH Presentation
---
VP Strategic Partnerships
OptimizeRx Corporation