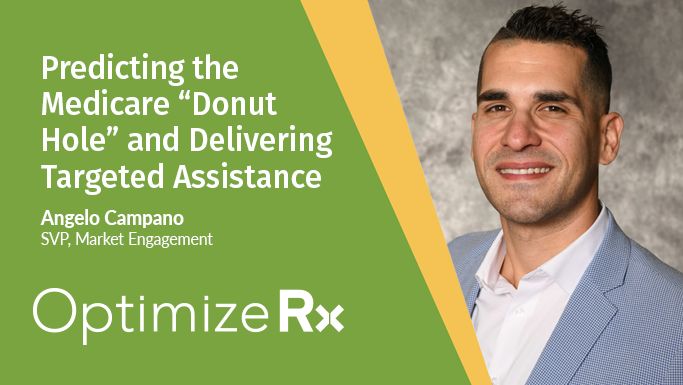 During my recent session at HLTH, I had the great opportunity to share a case study on how AI and real world data (RWD) increased medication affordability for patients by creating a more informed and empowered healthcare community. With the usage of AI and RWD on the rise in pharmaceutical marketing, it's imperative that our industry apply these tools strategically – in this instance, preventing a known adherence risk from medication cost increases during the Medicare "donut hole."
Non-Adherence and the Medicare Donut Hole

Many elderly patients rely on Medicare for their prescription drug coverage and to keep their medications affordable. However, many Medicare programs have a coverage gap after spending reaches a certain threshold – known as the "donut hole". During this period, out-of-pocket prescription costs for non-generic medications can increase significantly, causing financial hardships for patients and creating a risk of medication switching or non-adherence.
OptimizeRx recently worked with a cardiovascular brand that had a high percentage of patients relying on Medicare coverage, and offered a financial assistance program to help manage costs during the gap. However, patients approaching the "donut hole" needed more communication about when this coverage gap would be triggered, and how they could take advantage of the financial support available to them. But because the coverage gap occurred at different times for different patients, their HCPs were not able to easily identify and communicate with patients prior to the cost increase.
The OptimizeRx Solution

Utilizing an AI-driven predictive model and RWD from the EHR and third-party sources, OptimizeRx was able to:
Predict

when patients taking the brand therapy were on the threshold of entering the donut hole.

Identify

the treating physician for each patient

Identify When

patients would next be meeting with that treating physician

Communicate

information about the financial assistance program

directly in the EHR during the patient's next visit
This digital, predictive strategy allowed the brand to effectively utilize real-world data to provide HCPs with the insight and resources to best support patient adherence on their preferred therapy, while also helping patients afford their life-saving therapy.
The Results

By employing an RWD-driven and AI-powered approach for proactive communication, the brand was able to both prevent patient loss and "find" incremental prescriptions, while also increasing HCP awareness and usage of the financial assistance program. Specific program metrics include:
46K+ incremental prescriptions

27% of HCPs enrolled a patient for the first time

6:1 return on program investment
Building an AI and RWD Strategy with OptimizeRx

With an effective strategy and AI-driven models, RWD can be used to proactively support both patients and HCPs by providing critical information and resources directly within the EHR, promoting sustained patient adherence and dynamic communication between HCPs and patients.
If your brand is impacted by the Medicare donut hole, we'd welcome the chance to discuss how our AI and RWD solution, Evidence-Based Physician Engagement, can help patients stay on therapy.
---
Watch Angelo's HLTH Presentation


---
OptimizeRx Guest Contributor
OptimizeRx Corporation