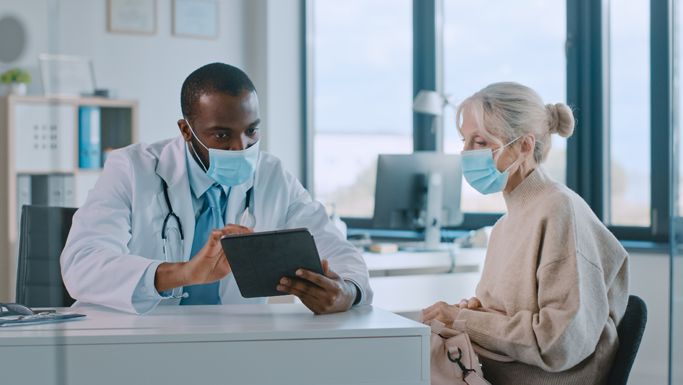 Overcoming Disadvantaged Access Positions with Digital Tools at the Point-of-Care

In almost every therapy area, utilization management, prior authorizations, and step therapy requirements increased between 2014 and 2020. For example, in rheumatoid arthritis (RA), PAs increased by 163%, and in multiple sclerosis (MS), STs increased by 220%.
Not only does this mean it's more likely for brands to be in disadvantaged access positions, but payer restrictions prevent providers from prescribing their first-choice therapy, and have been shown to contribute to worsening patient outcomes and significant cost and time burdens for practices.
Our physician survey found that 66% of physicians would prescribe something different in 25% or more of their patients if access was not a factor, and that physicians and their office staff spend an average of 4 hours per day helping patients gain access to medication, with an estimated cost of $5,800 a month to their practice. What's more, a recent study from the American Medical Association found that 34% of doctors reported prior authorization issues led to serious adverse health events for their patients such as hospitalization, a permanent disability, or even death.
It's clear that the access challenges negatively impact patient health. Fortunately, pharma brands don't have to accept the status quo. By incorporating the three pillars of a structured digital strategy into their market access approach, brands can address these issues with a seamless digital solution.
During a recent presentation at Hub and Specialty Pharmacy Models West, I shared real-world examples of specialty brands utilizing digital tools to bridge awareness and stakeholder communication throughout the care journey. Keep reading to find a sample of those stories.
Increase Brand and Coverage Awareness

Uncertain accessibility and changing access requirements hurt the patient experience. Without proactive awareness of formulary coverage, HCPs cannot prescribe in a confident or timely fashion. Additionally, field teams increasingly struggle to get facetime with HCPs in the post-Covid landscape.
To address these communication issues and educate HCPs, an autoimmune brand wanted to increase patient starts on therapy by promoting their recent formulary win at the point-of-prescribing. OptimizeRx was able to help them achieve:
3.2% script lift among existing providers

4.5% script lift from competitive targeting

12:1 ROI
This in-EHR, relevant, and timely promotion also helped at-risk patients gain access to therapy that is nationally preferred by prescribers.
Streamlining The Enrollment Workflow

Poor connectivity, manual processes, and limited feedback within the hub enrollment process negatively affects both providers and patients. For a specialty diabetes brand, a lack of automation and consistency meant prior authorizations were only being submitted 50% of the time, and the hub supported 100% of the cases manually. By shifting to a centralized, digital intake platform for hub enrollment, this brand was able to improve the HCP experience with the following results:
300% increase in the number of prescriptions being sent through the hub

60% increase in prior authorization submissions

44% of cases able to be fully automated
Streamlining the hub enrollment process allows for less repetitive administrative steps, increases submission accuracy, and enables greater stakeholder transparency.
Augment Sales Access




Field team support is critical to helping HCPs understand when and how to prescribe a drug – especially where there are payer restrictions or requirements to prescribing. But with the shift away from traditional face-to-face interactions between HCPs and field teams, maintaining those relationships can be challenging.
When a newly launched autoimmune therapy sought strategies to better facilitate communication between HCPs and brand representatives, OptimizeRx's TelaRep technology delivered a way for HCPs to contact their local reps for more information leading to:
42% increase in prescriptions over baseline

89% of brand reps contacted by HCPs

200% ROI
By using direct EHR-based digital communications, brands and field teams became accessible from within the clinical workflow, so HCPs could get the support they needed to feel comfortable prescribing.
In the age of digital-first commercial models, market access teams can no longer accept the status quo. It's time for your brand to embrace digital point-of-care technology in your market access strategy.
The Value of Digital Strategies in Overcoming Prior Authorization Hurdles

In the age of digital-first commercial models, market access teams can no longer accept the status quo. It's time for specialty brands to embrace digital point-of-care technology in their market access strategies.
With digital tools and strategies that increase awareness, streamline manual processes like hub enrollment or prior authorizations and facilitate connections between HCPs and field reps, specialty brands can make it easier for physicians to prescribe their preferred treatments. These access solutions also create a more transparent, timely, and communicative point of care for both providers and patients.
We welcome the opportunity to discuss how you can embrace a digital strategy to overcome market access challenges. Schedule a time to start this conversation today.​​​​
---
SVP Specialty Solutions
OptimizeRx Corporation