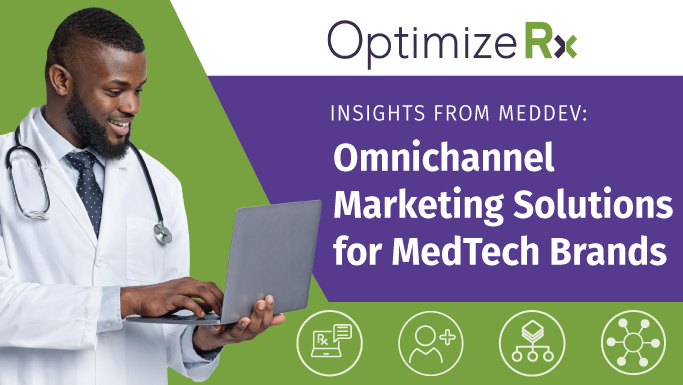 Elevate HCP Engagement and Brand Awareness with EHR-Based Strategies

The strategy for medical device marketing is changing. In the fast-evolving landscape of medical knowledge, where data doubles in a mere 73 days, medtech brands and HCPs alike can struggle to adapt to these changes. In fact, according to OptimizeRx's most recent physician survey, 77% of providers report they have difficulty staying up to date, and 59% strongly believe that brand information is only valuable when it resonates with their current patient panel. As our industry shifts to digital-first marketing tactics, traditional marketing channels like medical journals, sales reps, conferences, and even programmatic displays still play a role, but may not maximize efficiency or budget.
So how can medical device brands share clinically relevant brand content at the right time, on physician-preferred channels?
At the recent MedDev eMarketing Summit, I had the opportunity to share insights on how medtech brands can invest in electronic health record (EHR) technology solutions and target the right providers at the right time.
By leveraging real-time data and the latest data-driven omnichannel tools, medical device brands can ensure that their awareness campaigns aren't just timely, but highly relevant and targeted, resulting in more effective communication with HCPs, increased script/order volumes, and better patient outcomes.
Leveraging the EHR Workflow for HCP Engagement

Medical device brands have a powerful tool at their disposal: the EHR. But it's not just a data-rich environment - it's a dynamic platform for strategic communication, allowing brands to be present at the point-of-care. By understanding the EHR workflow and engaging HCPs where and when they're making care decisions, brands can tailor their messaging for each step in the care journey:
Pre-Visit/Chart Review:

Focusing on clinical results, patient eligibility, and specialty prescribing guidelines.

During the Patient Visit:

Offering insights on affordability, patient eligibility, prior authorization guidance, and specialty prescribing guidelines.

Post-Visit/Device Access:

Providing clarity on affordability, prior authorization processes, and distribution information.

Outside Visit/Researching:

Emphasizing clinical results, specialty prescribing guidelines, and distribution details.
With 88% of HCPs relying on EHR systems, the device brands have the opportunity for highly-targeted, relevant brand messaging. The challenge, however, is ensuring that these messages resonate with the immediate needs of the HCP and their patients.
Data-Driven

Environment: Making

Patient-First Decisions

with Better Targeting and Relevance

As OptimizeRx found in our latest physician survey, providers are tired of generic marketing content from life sciences brands. HCPs don't just want more information—they want the right information at the right time, whether it's regarding patient eligibility, financial support, or prior authorization needs. It's clear: doctors want value, not noise.
But providing this tailored information requires more than just better marketing content - it's about delivering that content effectively, according to physician preferences, when care milestones are taking place. So how can brands achieve this level of targeting?
With omnichannel solutions that seamlessly integrate every touchpoint, medtech brands can drive patient acquisition and deliver brand content more effectively, tailoring the journey for both HCPs and patients alike.
By drawing on the data available in the EHR and other sources (ICD-10, NDC, etc.), brands can identify qualified patients and share critical information with their treating physicians at the time it is most likely to be relevant – and actionable. And crucially, these omnichannel solutions use deidentified patient data, achieving precision without compromising patient privacy. With this patient-first approach, medical device brands have a more nuanced framework, guiding them to the most effective blend of message, channel, and timing for enhanced HCP engagement.
Putting EHR-Based Strategies

i

nto Practice

– The Results

Because of their data-driven, patient-centric and integrated approach, EHR-based strategies not only increase device brand engagement, but also drive higher ROI than other digital or in-personal tactics. In one recent example, OptimizeRx partnered with a newly-launched continuous glucose monitoring (CGM) device brand looking to educate high-value HCPs on the value of their device and help eligible patients gain a proactive understanding of their blood sugar levels.
By integrating OptimizeRx's omnichannel solutions, the brand team could engage providers directly within the EHR workflow. As a result, when treating qualified patients during care milestones, physicians saw crucial information about the device's advantages.
Within six months of the campaign launch, the brand team saw:
200% ROI

+1,200 incremental device prescriptions

6.7% average device lift
Through the structured combination of EHR workflow integration, device education, and omnichannel targeting, medtech brands can stay top-of-mind for high-value HCPs – while also driving higher order and script volumes.
Drive Patient Acquisition with

an Omnichannel Approach

By leveraging real-time data and the latest data-driven omnichannel tools, medical device brands can ensure that their awareness campaigns aren't just timely, but highly relevant and targeted, resulting in more effective communication with HCPs and driving patient outcomes.
Interested in exploring how your brand can take a similar data-driven approach to HCP engagement and targeting? Explore OptimizeRx's full range of EHR-based solutions for medical devices to learn more about how we can support your brand goals.
---
Chief Commercial Officer
OptimizeRx Corporation