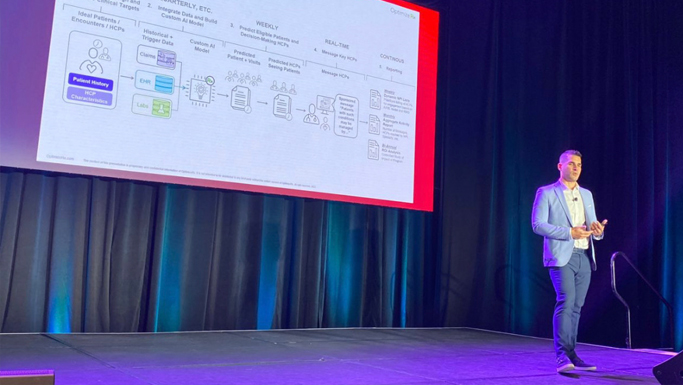 Real-World Data (RWD) has become an essential element of pharmaceutical marketing, but as an industry we are far from utilizing its full potential. During my recent session at Digital Pharma East, I had the great opportunity to share the secrets of the "data ninjas" and how we can use their strategies to fully utilize RWD in omnichannel communication.
Going Beyond the Acronym of RWD

It's no surprise that real world data is a popular buzzword, especially in the marketing world. But what does RWD actually mean?
RWD is often used synonymously with omnichannel and multi-channel marketing, specifically in persona development: how can we treat the patient as an individual, and how do they like to communicate? This information is usually pulled from different data sources like claims, prescriptions, or other interactions in the EHR.
Before discussing how your brand can apply RWD to omnichannel programs for HCP engagement, it's worth taking a first look outside our industry – and at an unusual source – to see how mastery of RWD can elevate your omnichannel strategy.
Looking Outside the Pharma Industry

Kacy Cantanzaro was the first woman to win American Ninja Warrior, a long-running TV show showcasing competitive feats of athleticism. Not only did she win season 6 of the show, but she also won seasons 7, 8, and 9 as well. But how did Kacy get here, and what story does her data tell?
She grew up in Glen Rock, NJ and attended Bellville High, a school known for producing Olympic-quality gymnasts. Unsurprisingly, she became a champion gymnast. Her successes drew the attention of NBC Universal, who looked for opportunities to place Kacy on their mainstay programs due to her skills and popularity. After her notable time on American Ninja Warrior, NBC placed her on the WWE network, where she is now wrestling under the name Katana Chance.
With her historical data of gymnastic statistics and lifestyle details, NBC put an AI-based predictive model in place to forecast where Kacy could fit best in their network. Her data, and the model behind her data, placed Kacy within American Ninja Warrior and WWE franchises where she would thrive and add value to NBC's programs and ratings.
NBC Universal operates similarly to the way a manufacturer's brand operates to their customers and their clinicians. Their AI model not only predicted Kacy's involvement in WWE and American Ninja Warrior, but also the future of her opportunities within the network, and provide a clear, actionable way to "market" her to various programs – predicting not only where she would succeed, but also the ratings return for each program. NBC Universal also utilized this data and AI model to create dynamic reporting and ROI analyses to show Kacy's value to the network over time.
Kacy's story—her history, athletic prowess, and success on American Ninja Warrior and WWE all contribute to possible use cases of RWD and how it can be used efficiently in evidence-based engagement.
Evidence-Based Physician Engagement

With Kacy's story in mind, let's bring our focus back to life sciences and the use cases of omnichannel RWD for pharma brands.
If we replace Kacy in the story above with your pharma or medical device brand, replace her gymnastic statistics and lifestyle details with your ideal patient profile, and replace the network programs with your target HCP audiences, you can easily see how RWD and AI can be used to identify when your ideal patient is present, then engage their doctor ahead of that patient's upcoming care milestones – so the most relevant brand information is part of that conversation.
So, when you're looking at the possible use cases of RWD for your brand, you need to determine:
Who is the ideal patient?

Who is the HCP seeing that patient?

When is that care milestone going to happen?

What information from that care milestone will be shared?
Addressing these questions with the right data sets and AI-model ensures there is relevant content waiting for the clinician when that care milestone happens, facilitating better, more timely treatment and communication, and ensuring your brand is being considered as part of the patient's treatment plan.
The Impact of Omnichannel RWD Strategies

An AI-driven omnichannel approach provides dynamic messaging for both HCPs and patients. Take a look at these two recent case studies, both using an RWD-drive strategy to solve specific brand challenges.
We recently worked with a cardiovascular brand that wanted to help patients avoid an increase in medication costs (and an adherence risk) due Medicare coverage gap known as the "donut hole."
By shifting to RWD- and AI-driven predictive model to introduce a financial support program, this brand was able to support sustained patient adherence with the following results:
27% of HCPs enrolling a patient in the financial support program for the first time

46K+ incremental prescriptions

A 6:1 return-on-investment
In another example, we worked with an oncology brand with a highly limited window for initiation, but a significant impact on patient outcomes.
With RWD and OptimizeRx's AI-based model, the brand was able to achieve:
28% increase in patient starts

33% of new patients from targeted HCPs

3.8:1 ROI
The impact of RWD methodologies is clear: with omnichannel RWD strategies in place, pharma brands can best support HCPs and patients with efficient, timely communication throughout the care journey.
RWD in the Omnichannel World

Many of the tools for real-world data delivery are already available but haven't reached their full potential as distribution methods to deliver the messages the data is carrying. A strong omnichannel approach is key to building stronger relationships with providers: understanding their needs and structuring your brand communications and education accordingly.
With AI-driven models and an effective omnichannel strategy, RWD can be used to improve dynamic HCP messaging within the EHR and predict when a patient has an upcoming care milestone, creating a framework for providing clinicians the information they want, when and where it's most helpful.
We'd welcome the chance to learn more about your omnichannel goals and brand needs, and discuss possible solutions from AI/RWD-driven engagement, to EHR-based communication channels, to social media strategies.
---
OptimizeRx Guest Contributor
OptimizeRx Corporation