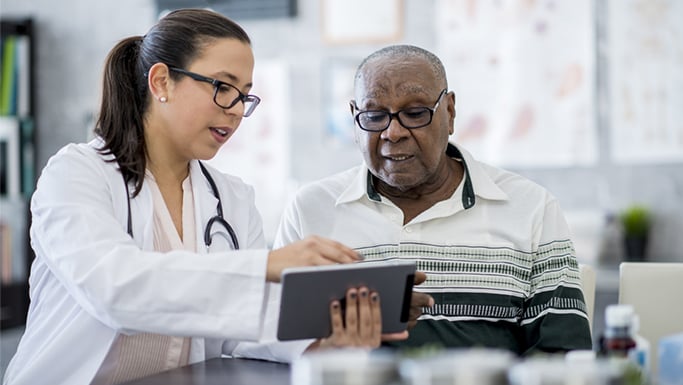 With COVID-19 still impacting provider facetime for brand field teams, life sciences organizations need new ways to deliver information that supports HCP awareness. That's why I was thrilled to speak at Xpectives Health Summit's Marketing Innovation & Technology Forum, discussing "Supercharging Brand Promotion with RWE in the EHR." During the session and the subsequent Healthcare Marketing Panel, I shared some of the tangible opportunities point-of-care expansion and access to RWD create for brand teams.
The presentation specifically focused on the way RWD can inform marketing strategies by empowering brands to more effectively deliver key treatment information throughout the care journey. When successfully implemented, this process drives more impactful conversations between the HCP and patient that directly influence awareness, access, adherence, and overall patient health. This supercharged marketing strategy is obtainable through our seven-step approach.
"This process drives more impactful conversations between the HCP and patient that directly influence awareness, access, adherence, and overall patient health."
Ensure eRX availability
The first step towards creating an RWD-informed marketing strategy is making your brand available to the EHR.
Find the right patients
Capitalize on the volume of RWD available through the EHR to define your ideal patient profile based on past patient characteristics. These "patient rules" give you an RWD-driven method to target HCPs based on their likelihood of seeing a therapy-eligible patient at a given point in time.
Provide awareness
Using the RWD you've gathered through the EHR, you can then strategically target HCPs at the time when brand information is likely to be most relevant and impactful. By using an omnichannel approach, you can capture HCP attention both personally and digitally, while testing your content to determine which has the highest efficacy.
Create engagement channels
Use on-demand HCP engagement channels available in the EHR such as one-click access to sales representatives or MSLs, to connect with targeted providers the moment they have questions about your brand.
Overcome prescribing obstacles
Don't let barriers like prior authorizations block patient access to your brand. Incorporate digital therapy initiation tools directly into the EHR in order to avoid potential patient loss.
Generate pharmacy pull-through
Overcome fulfillment challenges like limited distribution networks by digitally triaging scripts to pharmacies that stock your brand, so patients don't struggle to fill their prescriptions.
Promote patient adherence
Digital patient engagement programs are proven to help patients stay on therapy longer. Boost usage of hub and patient services by delivering key support directly on mobile devices, and use RWD to identify the content that best contributes to patient adherence.
While RWD isn't the only component of this process, it does play an essential role—helping brands target the right HCPs and patients with the right messaging at the right time in order to strategically streamline efforts and maximize results. When one specialty vaccine brand implemented this RWD approach, they saw a 101% increase in RX scripts written and filled across their target HCPs. By analyzing your goals and using RWD to strategically inform your marketing strategy, the OptimizeRx Treatment Initiation and Persistence Platform can help your brand achieve similar success, regardless of the unique barriers you face.
Interested in implementing RWD into your marketing strategy? Book some time with our team today to see how it's done. Schedule Your Meeting
---
OptimizeRx Guest Contributor
OptimizeRx Corporation