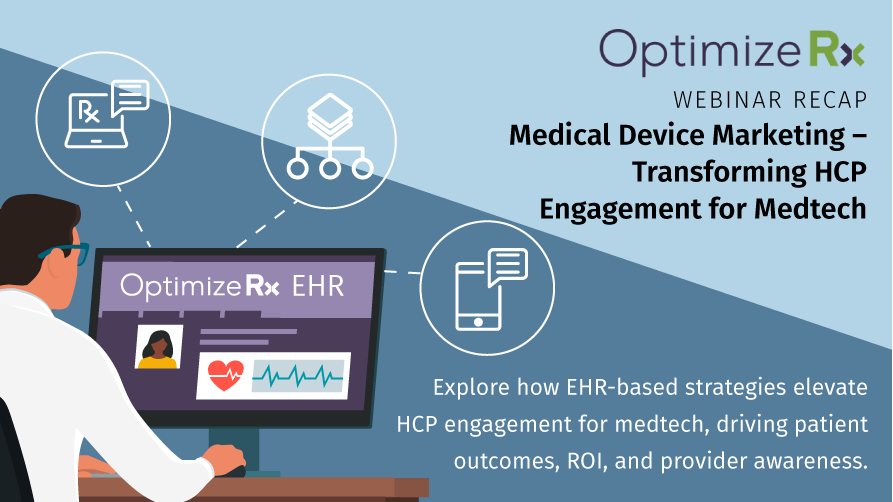 The EHR as the Nexus of Care – Elevating HCP Engagement for Medtech Brands

The fast-paced, constantly evolving world of healthcare marketing is becoming increasingly reliant on digital strategies to bridge the gap between physicians and patients. However, the evolution of these strategies presents challenges. For medtech and medical device brands, the growing number of digital solutions and channels can seem like unfamiliar terrain. With so many options, brands can struggle to find the most efficient strategies for their needs, while physicians grapple with keeping up-to-date on the growing number of treatment options available.
In our recent medtech webinar, "Place Your Brand at the Nexus of Care with EHR-Based Digital Strategies", I had the opportunity to discuss these pain points and explore strategies to navigate this dynamic landscape with Dr. Jeffrey Stahl, Chief Medical Officer and Director of Innovation at DxWeb, and Dr. Javier Nazario, Interventional Radiology, Hospital Centro Comprehensivo de Cancer, UPR.
Today's Healthcare Marketing Landscape – and What It Means for Medtech Brands

In today's high-speed, information-rich world, physicians are finding themselves stretched thin. Healthcare providers (HCPs) are not only tasked with patient care and clinic management, but also with keeping up with the latest treatments and searching for additional resources that can support their patient care journey. In fact, 77% of physicians report they have difficulty staying up to date on the latest treatment options.
To put it in perspective, in 1950, it took 50 years to double medical knowledge. Today, it's just 73 days.
One of the biggest hurdles for healthcare providers is choosing the right treatment for the right patient at the right time. With more treatment options than ever, it can be difficult to navigate the number of choices and pinpoint the best treatment for each patient.
But what does this mean for medtech and medical device brands?

For many brands, traditional marketing like medical journals, conferences, sales reps, and programmatic display ads still provides value, but won't maximize efficiency – or budget – in the digital age.
Ultimately, physicians' greatest asset—their time—is highly valuable. To successfully support treatment decisions in a timely fashion, it's critical for medical device brands to align clinically relevant content with HCP needs when and where care decisions are being made.
Taking the Next Step – Data-Driven EHR Integration

To effectively reach physicians and drive patient outcomes, medical device brands need their HCP engagement strategies to be targeted, highly personalized and most critically – relevant to the patient a provider is meeting with.
The Electronic Health Record (EHR) plays an integral role in this process as the foundation of clinical workflow for physician-prescribed brands. At its core, the EHR offers a data-rich environment that maximizes medtech companies' ability to determine what physicians are most likely to be interested in receiving brand information, and which patients are most likely to benefit from brand treatment.
It leverages high-level patient data - think ICD10, NDC, labs, and past treatments. This precise targeting makes every communication much more impactful, allowing medtech brands to better support patient and provider conversations more effectively.
By delivering brand information directly into the EHR, medtech brands can provide clinically-relevant content at the precise time it's needed – without obstructing the physician workflow. For providers, it means they have the resources needed to make fully informed treatment decisions - without having to hunt for relevant content,
As digital solutions evolve, the EHR – a tool already in use by 90% of health systems – is an established, trusted component of care planning, consistently demonstrating its value in the complex healthcare landscape.
Leveraging the Power of the EHR

By embracing innovative, EHR-based solutions for HCP engagement, medical device brands can drive patient outcomes, as well as strong ROI and provider conversion.
In the digital era of healthcare, the EHR stands as a pivotal tool, a nexus of care, bringing together medtech brands, physicians, and patients - creating a seamless and beneficial healthcare journey for all involved.
Ready to leverage the latest solutions for more effective, cost-efficient HCP engagement? Book a meeting with our team today to explore our patent-pending technology that drives brand awareness and patient acquisition.
---
VP Strategic Partnerships
OptimizeRx Corporation