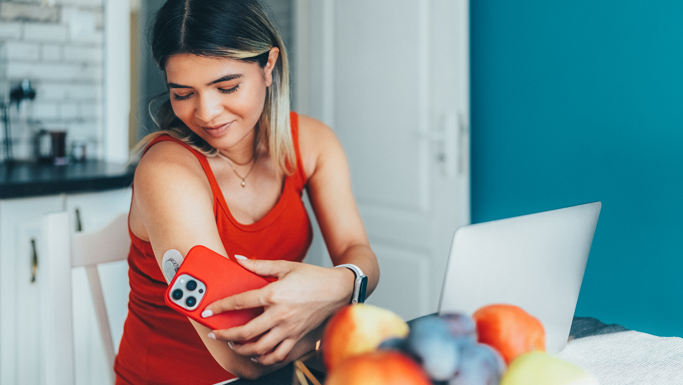 How can medical device brands stay top-of-mind and provide the most value for physicians and patients?

As the healthcare landscape continues to evolve, successful digital tactics are playing an increasingly crucial role in medical device teams' ability to reach healthcare professionals (HCPs) and patients effectively. Choosing digital strategies that align with the needs of physicians and patients at different stages of the care journey can significantly increase reach and awareness for medtech brands.
By prioritizing data-driven digital engagement throughout the care journey, medical device companies can deliver the right brand resources to HCPs, ensuring that their brand is top-of-mind when physicians are interacting with, diagnosing, and treating patients. One of the most powerful channels for targeted medical device messaging is the electronic health record (EHR), which allows medtech brands to provide value at every stage of the patient journey, all while maintaining competitive brand placement consistently. But how can medical device brands fully utilize the EHR as a brand channel?
By choosing innovative digital tactics that align with key HCP and patient touchpoints in the healthcare journey, medical device brands can create a consistent, relevant presence, deliver the right brand resources, and maximize commercial potential against competitors while using marketing budgets more efficiently for better ROI.
Align Your Medical Device Marketing with the Care Journey

With broad targeting tactics, medtech teams can't reach high-value healthcare providers where they are: making critical care decisions within the EHR. While each patient is unique, the care journey generally starts with the presentation of initial symptoms and ends with a diagnosis and treatment selection. With targeted digital solutions, your brand can leverage insights from the EHR and deliver brand messaging with ease, all while making your marketing budget more efficient for better ROI.
Ensuring patients have the support they need is essential, and for medtech brands, engaging both patients and HCPs through digital channels is crucial. By using the EHR workflow and its relevant data, your brand can identify specific codes, procedures, medications, and lab results to trigger communications that provide HCPs with disease-specific, clinical, and branded messages. Additionally, your medical device brand can communicate affordability support programs within the EHR and integrate technology such as one-click rep access to create a face-to-face relationship with HCPs, emphasizing availability and accessibility.
By choosing innovative digital tactics that align with key HCP and patient touchpoints in the healthcare journey, medical device brands can create a consistent, relevant presence, deliver the right brand resources, and maximize commercial potential against competitors.
The EHR as a Medical Device Brand Channel

With OptimizeRx's EHR-based programs, medtech brand teams can use the available data to deliver targeted and relevant content to physicians as they diagnose and treat patients. This not only enables medical device teams to communicate information on eligibility criteria, benefits, differentiators, and financial support in a timely and effective manner but also adds value to the patient journey.
Your brand team can support physicians and fully leverage the power of the EHR in several ways:
Suggesting specific diagnostic tests

Educating healthcare providers and patients on expected costs and available financial support

Presenting your brand as a potential treatment option

Clarifying the correct way to route orders to fulfillment facilities
EHR-based programs can facilitate engagement and make it easier for physicians to access the information they need to make informed treatment decisions, keeping your medtech brand front-of-mind. But the EHR is not only useful for delivering brand information; it also offers a convenient channel to for HCPs to reach out and connect.
Build Physician Relationships with Face-to-Face Connections

For life science companies, sales reps have played a critical role in engaging with HCPs, providing:
Education for physicians on the advantages of products/devices

Information on clinical outcomes

Prescribing/ordering guidelines

Support for any questions or concerns that HCPs may have
However, in the post-COVID landscape, communication preferences have shifted, with 87% of HCPs preferring virtual meetings or a mix of in-person/virtual meetings. To facilitate face-to-face communication between healthcare providers and sales reps with ease, savvy medtech brand teams can place a "Contact My Rep" button within the EHR, visible at critical moments in the patient care workflow.
By providing easy communication channels for physicians to connect with medical science liasions (MSLs) or sales reps, this feature allows HCPs to receive prompt and reliable support on patient qualification, scientific merit, ordering and fulfillment, patient affordability, or other brand information. Any inquiries made by HCPs are automatically directed to the appropriate rep through a connection to customer relationship management (CRM), streamlining the process and ensuring the highest quality of service, all with just a simple button.
Although the post-COVID landscape has become increasingly digitized, the strongest connections are still established through face-to-face communications that provide added value for your medical device brand.
Raise Awareness and Increase Market Share with Targeted Digital Solutions

Medical device technology has made remarkable strides alongside pharmaceutical advancements, providing patients with new treatment options. It's crucial for HCPs to remain informed on the latest developments to ensure their patients receive the best possible care, but it can be challenging for physicians to stay up-to-date on the wide range of available options, and to determine the optimal treatment for each individual patient.
It can also be challenging for medtech brands to stand out among the competition. By utilizing targeted, data-driven device information through EHR workflows, your team can easily share brand information with HCPs in a timely and relevant manner, keeping your brand top-of-mind in competitive landscapes, or raising awareness about newly-launched products.
For instance, OptimizeRx collaborated with a newly-launched continuous glucose monitoring (CGM) device brand to help eligible patients benefit from a more proactive understanding of their blood sugar levels. Using OptimizeRx's digital solutions, this medical device brand was able to engage healthcare providers within the EHR workflow, so physicians would see information about the device's benefits when they were actively engaged in caring for qualified patients. Within six months of the campaign launch, the brand saw over 1,200 incremental device prescriptions, ultimately resulting in a 200% return on the brand team's investment and showing the full impact of EHR-based programs.
Keep Your Medical Device Brand Top-Of-Mind with EHR-Based Strategies

In today's healthcare landscape, digital strategies play a vital role in reaching HCPs and patients effectively. With broad marketing tactics, medtech teams often struggle to effectively reach high-value physicians. Leveraging highly-targeted digital solutions, your medical device brand can cut through the noise and easily deliver targeted, data-driven device information to physicians at key touchpoints in the healthcare journey. With OptimizeRx's EHR-based programs, your brand can stay front-of-mind in a competitive landscape and use your marketing budget more efficiently, resulting in better ROI. By prioritizing data-driven digital engagement, medical device brands can successfully increase reach and awareness for their products, providing the most value for HCPs with cost-effective solutions.
---
---