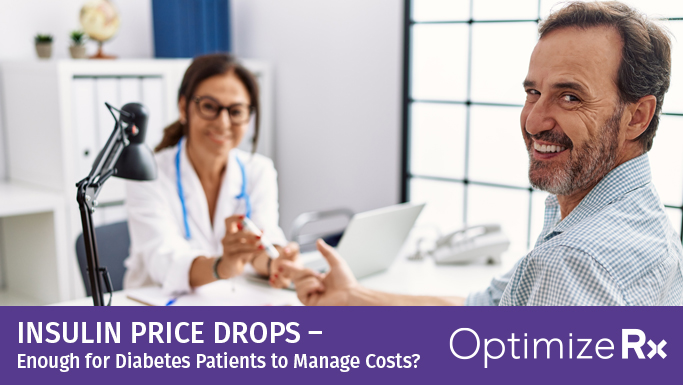 Diabetes continues to plague the healthcare industry, maintaining its status as one of the top public health issues in terms of clinical outcomes and cost. The American Diabetes Association estimates that the annual cost of managing diagnosed diabetes cases is $327 billion, creating a significant burden for both patients and providers. Worse, these figures don't include the millions of Americans who have undiagnosed prediabetes.
Historically, diabetes patients and providers have faced unique challenges due to the rapidly rising costs of insulin, with the cost of the four most popular insulin types tripling over the past decade. For example, The Healthcare Cost Institute reported in January 2019 that the average person with type 1 diabetes spent $5,705 annually on insulin.
While recent announcements from Eli Lilly, Sanofi, and Novo Nordisk to reduce insulin costs bring hope for patients, insulin affordability is only one part of the overall cost and strategy of managing diabetes. Patients still need support in other areas, such as understanding formulary coverage for insulin and non-insulin treatments, accessing affordability programs for non-insulin medications, and increasing awareness and usage of supporting tools like glucose monitors. Additionally, limited visit times often mean that doctors can't discuss all available support services.
Successfully managing diabetes requires a multi-faceted approach, and point-of-care communications are an ideal way to make sure doctors - and patients - are aware of the full range of resources and support services available to help manage diabetes, resulting in better patient outcomes and adherence.
Managing Diabetes Adherence – The Role of Cost

For both low- and high-income patients, physicians play a crucial role in educating patients and reducing out-of-pocket costs, improving medication adherence across a variety of diagnoses. Because patients look to providers for medication information and treatment options, physicians working on the frontlines of care are uniquely positioned to share drug savings information with their patients and help them find the most affordable options for care. A 2018 study by SureScripts noted that 74 percent of providers believe it's important to consider a patient's benefits before prescribing a specific medication, and 59 percent of those want the ability to compare similar medications.
In a 2021 survey, OptimizeRx found that 72% of participating endocrinologists reported high medication costs as one of their top three challenges in treating diabetes, and that 46% of their patients struggled to afford medication. Other research has found that high prices are a barrier to prescription satisfaction, adherence, and affordability, and that three-fourths of providers changed their brand choice once a week to accommodate affordability concerns, with more than one-third changing their choice once a day. These providers point to manufacturer-sponsored co-pay coupons as an effective tool for managing drug costs.
Increasing Awareness and Patient Support Services

Since patient adherence is so closely tied to medication cost, physicians rightly recognize that achieving improved outcomes across the healthcare industry relies on the ability to identify the best drug at the best price when providers and patients are face to face. Though with limited visit time, physicians might not have the chance to discuss each treatment option or affordability program in detail, making a multi-faceted approach to diabetes management more challenging.
Annually, billions of dollars' worth of drug vouchers and coupons remain unused as both providers and patients struggle to access them – or are unaware they exist. The complex network of manufacturer savings cards and pharmacy coupons can be daunting and challenging for consumers to navigate. In the survey cited above from OptimizeRx, 88% of endocrinologists reported moderate-to-high need for more support when communicating with patients about accessing copay/affordability programs.
There's a clear opportunity for life science brands to further help reduce out-of-pocket costs for diabetic patients by increasing patient access to vital drug vouchers and coupons that provide medication cost relief.
Improving Diabetes Support with Point-of-Care Communications

As the U.S. government pushes for drug pricing transparency in an effort to bring down drug costs, drug manufacturers that share savings opportunities with providers will position themselves to become the physician's drug of choice, help patients stretch their medication dollars and aid providers in providing affordable care and maximizing outcomes. But in order to so do, life science brands need to ensure that savings information is front and center when care decisions are being made.
Given that physicians spend a significant part of their day interacting with EHR platforms, an obvious solution is making information about medication affordability and other life sciences-sponsored resources available directly in these platforms. Today's EHR-based solutions, like OptimizeRx Financial Messaging, deliver brand-specific savings information directly at the point of prescriber, and with point-of-care communications, patients and providers can have better insights into the assistance available, so they are more likely to start – and stay – on their medication.
What's more, real-world data and artificial intelligence also create opportunities to better target and tailor point-of-care communications. By using predictive models that project future patient care needs, life science brands can help providers identify instances of non-adherence to medication schedules, predict when patients may benefit from changing therapies, and close care and affordability gaps by taking advantage of the life sciences-sponsored resources available.
While efforts to reduce insulin costs are a significant step forward, patients still need support in other areas of diabetes management. By focusing on point-of-care communications and facilitating access to non-insulin treatment affordability programs and support services, pharma brands can help diabetes patients better manage their condition, ultimately leading to improved health outcomes and lower costs for all stakeholders.
---
Learn more about how the OptimizeRx platform can increase medication affordability by raising awareness of savings program availability at the moment your brand is being prescribed.
---