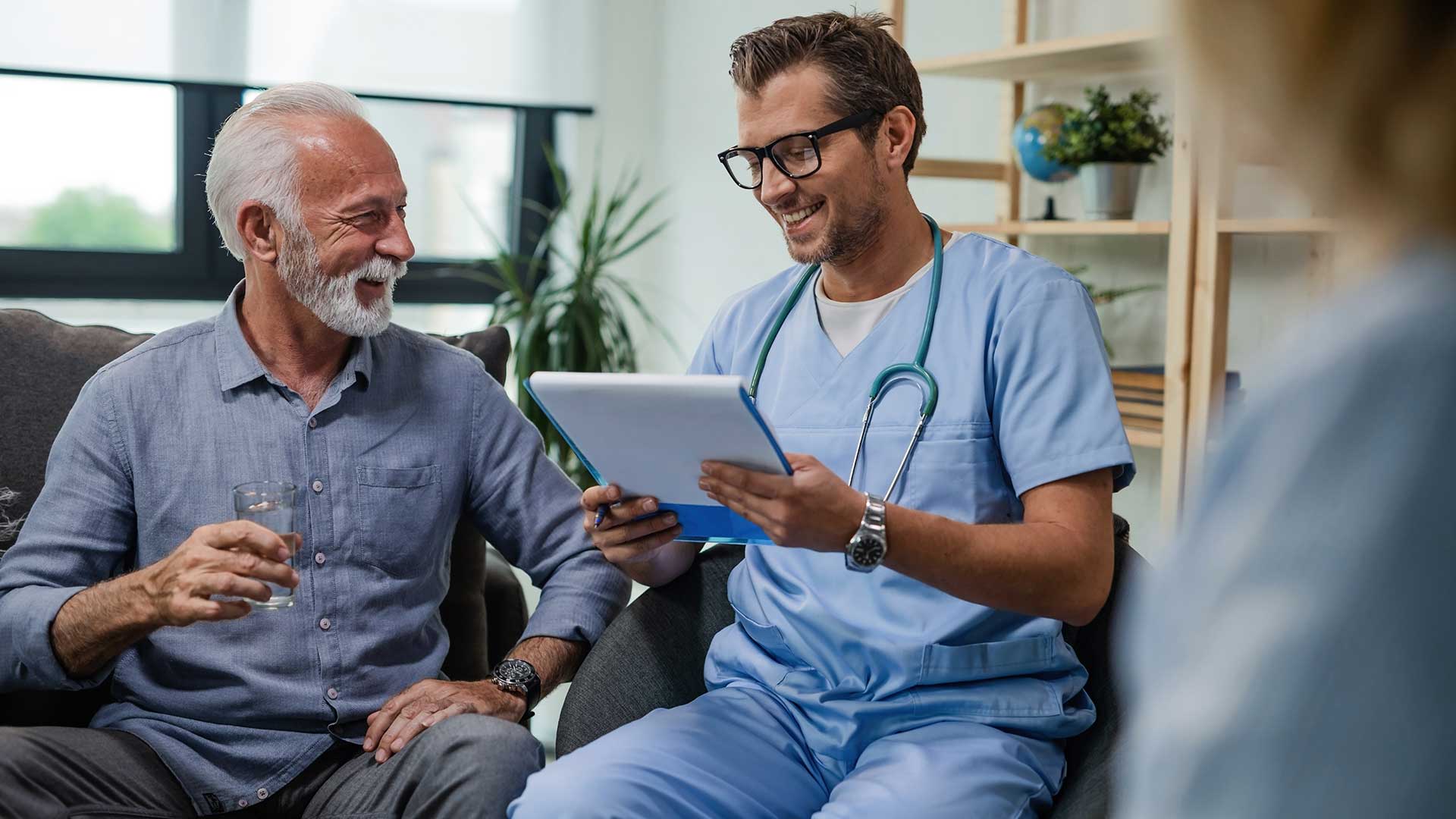 Bringing our clients innovative digital solutions is the core of our purpose as a sales team at OptimizeRx. When we had the opportunity to participate in the first annual #Innovate4Outcomes, I jumped on it knowing that it would be a rare and unique event that brought thought leaders from every corner of the industry together. Being in the digital room with these thought leaders to discuss the exact issues we try to solve was invaluable and I was able to learn so much from them.
The Challenge: How to support clinicians with digital strategies that facilitate treatment adoption and continued use to drive better patient outcomes. When looking at the challenge, we identified several barriers to adoption. The biggest hurdles for clinicians in supporting patients in recommended courses of treatment are time, access, and the multistep process to enroll patients in inpatient programs, which often occur outside of the EHR. Current patient programs are often offered by manufacturers in the form of savings support, disease awareness, education, and text capabilities and are delivered through the manufacturers' client management system, or CRM, via the multi-step process below,
C

linician

s

are the

starting point

of therapy for patients at the point of care

.

T

o

access savings card/education forms from manufacturers, clinicians must leave the EHR to go to the manufacturer's website.

Up

on a

clinician

initializing

the program, a p

atient

must opt

-

in to the education or text

program

.

To complete the program,

Patient

s additionally

must often sign separate release forms for financial and education programs

to successfully complete enrollment.
On average, physicians spend six hours a day in their EHR and have extremely limited time with patients and between appointments. Time is a rarity in their days, so anything that causes them to leave the EHR is almost not a plausible option within an appointment block.


"

The biggest hurdles for clinicians in supporting patients in recommended courses of treatment are time, access, and the multistep process to enroll patients in patient programs, often that occur outside of the EHR.

"
Our team's solution: Instead of placing impetus on physicians to enroll patients in manufacturer programs, what if we could craft a solution through a better flow of information that empowers patients to form a community with others going through the same care journey, stay on top of their own treatment plan, and form better relationships with their physicians? Here is how we brainstormed tackling the problem with directed solutions:
Step 1. Leverage the EHR. E

lectronic health

records

are

sitting on valuable patient information. If we can

leverage

EHR channels to

provide

patient education and support through the care journey, this alleviates the issue of a doctor having to ever leave the EHR to

provide

these things. It also allows the doctor to actively see the information being provided to the patient. Imagine integrating these things into post-visit summary notes, being able to assign supplementary educational "lessons" to patients and receiving updates when

they've

read them, etc. A transparent flow of information in both directions would go far in improving the patient-provider relationship.

Step 2. Integrate across platforms. Right now, care plans are disjointed with multiple touch points in varying locations. If we can tie everything back into the EHR, we can give doctors real-time data to support patients in staying active in their care journey. By empowering doctors to

monitor

the

utilization

of treatment plans and making sure there is a suite of support options at their fingertips to offer patients at the point of failure, we can empower doctors to empower their patients.

A great example

of this would be the ability to notify a physician when a patient

fails to

pick

up

their prescription within a designated refill period. With automation tools, rather than the doctor or his nurse making a phone call, the EHR could deploy a series of text and/or reminders, financial support options in the form of co-pay and savings cards, and even give the patient

an option

to make an appointment in the event they feel their medication is not working for them.

Step 3. Leverage data to connect patients. Fostering human connection and creating support systems within the care journey has proven to aid in positive outcomes for patients. Adapting

EHR

channels to connect patients at the same point in their care journey and with the same comorbidities would go far in fostering community. A step further would be patient ambassador programs for education and support.
By identifying gaps in our current approach, like legal concerns with Pharma and sharing information with adhering to HIPPA, as well as how to innovate so that we can share that information legally in efficient and effective ways, we can continue to empower patients and physicians alike for positive outcomes. In conclusion, the multi-faceted team we had at Innovate4Outcomes helped us think through the challenge differently than any of us had discussed before. The various backgrounds of life sciences, nurses, clinicians, and digital health developers allowed us to have a rich and engaged conversation that opened up new ways of thinking and opportunities that provided value to all who participated. Please look to our other blogs on Innovate4Outcomes as we continue to discuss our brainstorms throughout the year.
---
SVP Sales, MedTech
OptimizeRx Corporation
Jenn is an innovative and dynamic sales management professional with the ability to quickly and concisely analyze and understand marketplace conditions, and develop actionable recommendations. Specialties: Sales and Distribution Strategy, Strategic and Tactical Planning, Field Sales Force Management