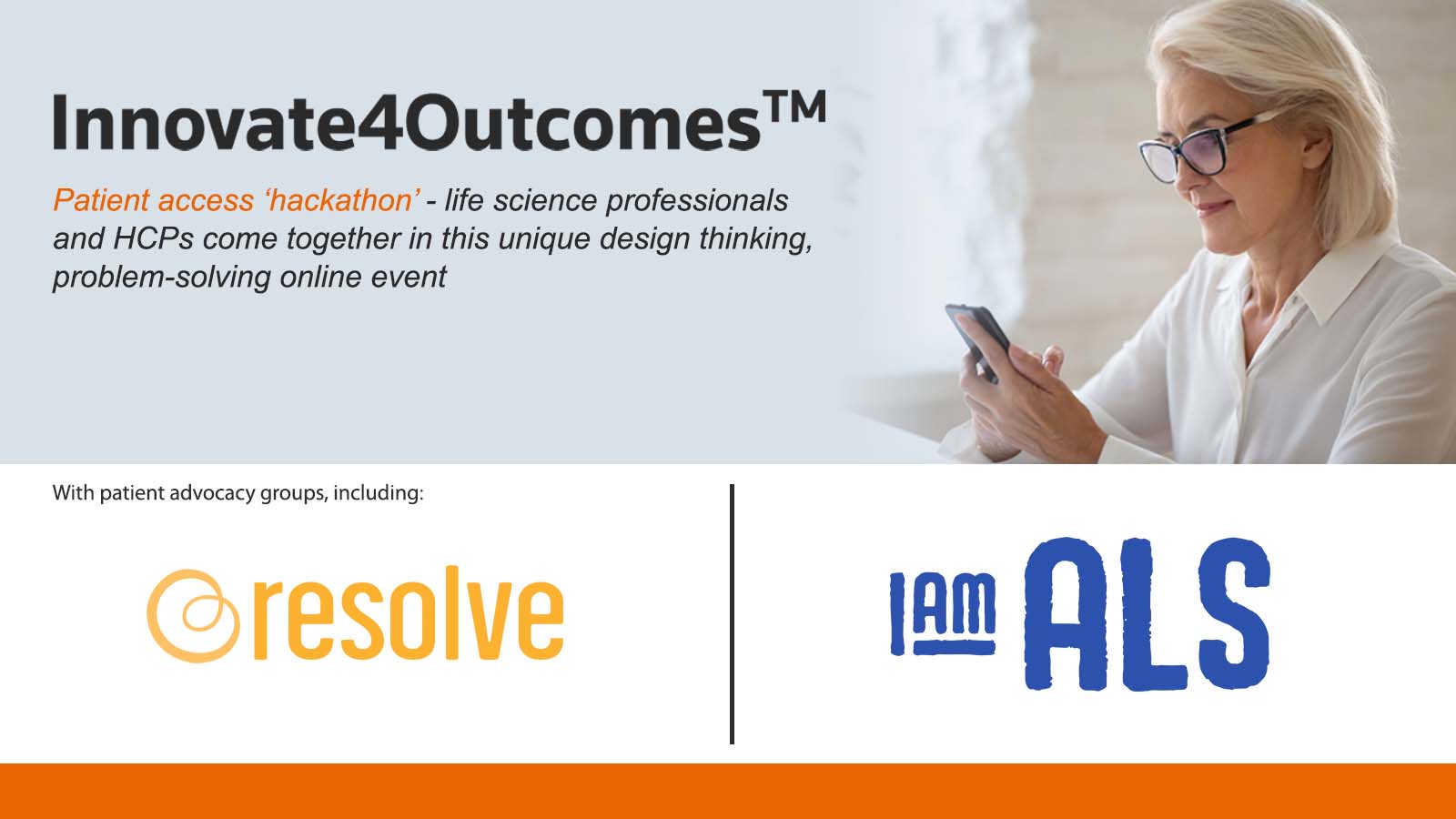 Innovate4Outcomes® was born in 2020 as a design-thinking event in response to COVID-19, but it quickly became clear the COVID-19 health crisis could be a catalyst for a bigger picture collaboration among industry stakeholders to ideate solutions for better patient outcomes. Our second annual Innovate4Outcomes® event kicked it up a notch by bringing patient advocate leaders to the table – and this was a game-changer.
Over the past 18 months, we have seen unprecedented technology adoption and digital shifts in the healthcare space. We have witnessed the ingenuity, creativity, and resilience of the industry. While there is a growing number of digital health solutions in the market, awareness of and access to treatment remain top challenges for patients, providers, and pharma manufacturers.
Crossing Industry Boundaries




Innovate4Outcomes® 2021 focused on addressing standards of care and equal access to treatment for patients. This year we partnered with Reuters Events to bring together pharma leaders, healthcare providers (HCPs), and patient advocates to create innovative solutions to pervasive systemic challenges. We teamed up with patient advocacy groups, RESOLVE: The National Infertility Association and I AM ALS, to bring a community perspective to the table and help ideate solutions with input from the stakeholders we are creating them for.
Patient advocacy groups like RESOLVE and I AM ALS are critical resources, but still face several barriers when it comes to providing their support when it's needed most.
RESOLVE relies on OB/GYNs and reproductive endocrinologists to tell patients about their support at the point of service – but this is rarely done. Often, it's when patients are already in crisis that they are made aware of RESOLVE. In reality, connecting people with this important resource earlier in their family planning cycle can reduce crisis situations in the first place. Similarly, I AM ALS has a Navigation Program that connects people impacted by ALS to an ALS support specialist who provides practical resources, shares relevant medical and research information, and supports them emotionally, providing tailored one-on-one holistic support. However, the I AM ALS Navigation program currently serves approximately 3% of people living with ALS, largely due to a lack of awareness.
Without awareness of these groups, patients are missing out on access to the resources and support they provide – emotional, financial, educational, etc., – and providers are bearing the burden of figuring out how else to help patients. When it comes to awareness, it's important to point out that most neutral advocacy groups don't have access to sufficient marketing budgets, which means they depend on more grassroots efforts and other partnerships and support to raise awareness and access to their resources. Therefore, crossing industry boundaries to collaborate with peers and leaders across healthcare is crucial.
Through collaboration, we become aware of needs and challenges we can help address and solve for – and that's exactly what participants in our mini health 'hackathon' did over the course of three and a half hours. Six teams, made up of 8-12 participants representing pharma, HCPs and patients, worked together on solutions to the following three challenges:
Challenge #1 – Equal opportunity to learn about support




Partnering with patient support groups has been shown to improve patient outcomes across chronic conditions, yet large pockets of patients are unaware that neutral organizations exist to help them navigate our healthcare system. What can be done to increase the utilization of support resources to help patients actively and successfully manage their own care?
For RESOLVE this means becoming a resource for people building their family early in the journey before people are in crisis.
For I AM ALS this means scaling up from serving 3% of people living with ALS, to serving 50% of them.
Challenge #2 – Ensuring support meets the needs of diverse populations




Support services are vastly under-utilized by people of color, isolated populations, and other minority groups, even when they are aware these services exist. What interventions can be implemented to better support diverse communities in need?
For RESOLVE this means positioning themselves as a resource for all, not just for some. They experience a challenge engaging men, in particular - despite the fact that men experience equal rates of infertility to women.
For I AM ALS this means figuring out a way to find people of color impacted by ALS who need their support, as they are under-represented within this rare disease.
Challenge #3 – Addressing gaps in care




Many patients will experience gaps in care due to systemic access challenges. Once a patient does experience a gap in care, how can providers, advocacy groups, and manufacturers partner to put them back on track?
For RESOLVE this means being a leader and catalyst that changes the system around accessing care and support which leads to better outcomes.
For I AM ALS this means working with neurologists and other key stakeholders to ensure that every person living with ALS is informed about clinical trial opportunities in a timely manner, so more people can access investigational therapies early in their diagnosis.
The Winning Solution




The teams pitched their solutions to a panel of judges, including leaders of RESOLVE and I AM ALS, who were tasked with choosing one winner. Solutions ranged from AI-enabled personalized engagement for patients, apps, and platforms, to concierge care navigators by condition, and overall, there was a strong focus on increasing diversity. Yes – it was a tough choice for the judges!
The Innovate4Outcomes 2021 winning solution is the "MATCH" (Meet, Advocacy, Talk, Connect, Heal) database – a database of neutral support organizations verified by a collective of both HCPs and patients. This smart tool would allow people to interact and connect in a variety of ways based on their preferences. It would be designed to drive education and deeper engagement among the healthcare community.
There is so much to share about how Team #3 arrived at the "MATCH" platform as their solution, and all the great solution ideas the other teams had. Stay tuned over the next few weeks as we share about other teams' solutions and our collective learnings and takeaways from the event.
---
SVP Marketing and Communications
OptimizeRx Corporation