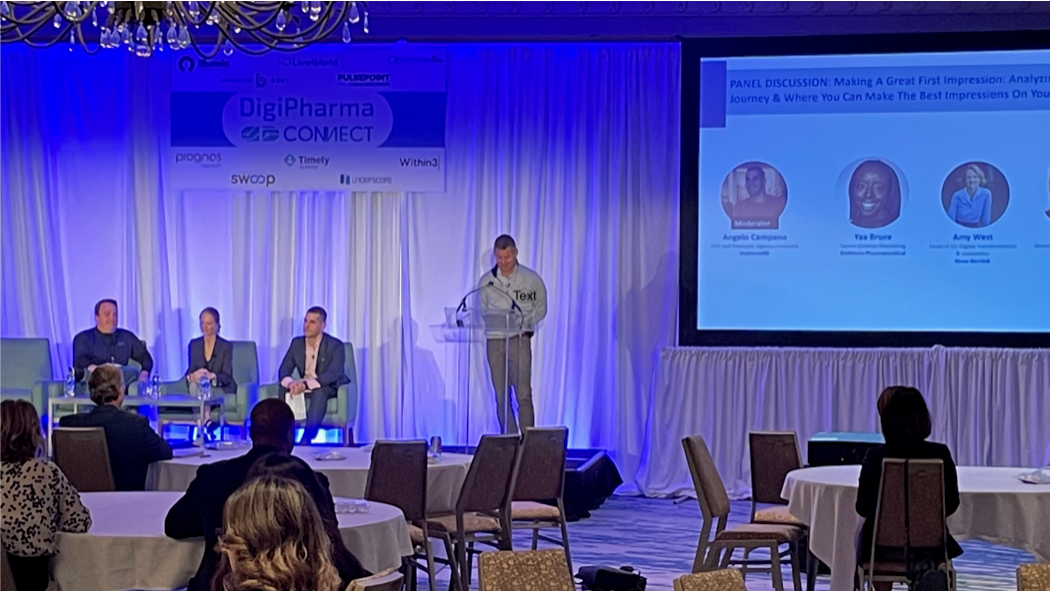 Exploring the Current State of Patient Journey Planning

In the quest to improve patient outcomes, life sciences companies are increasing their focus on optimizing the patient experience through better patient journey planning.
At the recent DigiPharma Connect conference, I had the opportunity to moderate a fantastic panel discussion with leaders from Novo Nordisk, Moderna and BioMarin about how to create a positive experience for patients from the first moment they encounter a brand, delivering the information and support patients need to make informed, confident choices with their healthcare providers.
Among the many areas discussed on this topic, a few stood out as being especially valuable to brand teams looking to create a more engaging and positive patient experience.
Investing in the Right Channels

Understanding where and when your patients are engaging with healthcare content is the first step in designing your patient journey. "Omnichannel" is a current industry buzzword, but perhaps what's more important is establishing a presence in the right channels. Digital media options continue to proliferate and grow for both patients and their healthcare providers, and establishing the right channel mix is critical to investing brand resources efficiently.
One channel that all the panelists agreed was an especially valuable tool to engage patients was text messaging. Not only is texting widely embedded in patients' daily lives, but when implemented strategically it can be adapted and personalized to reflect each patient's unique healthcare journey, delivering the information and support most relevant to their current needs and experiences.
Drawing Actionable Insights from RWD

Real-world data (RWD) is another hot topic in pharma, and the panelists felt there was an opportunity to increase the use of these tools and "lead with data" to better support the patient experience. Yet there are multiple challenges still to overcome in the process of turning RWD into actionable insights. For newer brands, they may not have a sufficient dataset from which to draw insight, and established companies may need more guidance on when and how to use the data they do have access to – particularly when working with claims data or other data sets that have inherent time lags between entry and availability for use.
Unlocking the Full Potential of AI

Artificial intelligence (AI) has come a long way since the earliest "chatbots" for patient support, and there's growing demand to increase the role AI solutions play in the patient journey.
While the most common approach to AI is to create more personalized, interactive digital communications – e.g. a smarter chatbot – we've actually seen success applying AI to RWD to predict patient care milestones and future treatment needs, which allows us to help guide information delivery to HCPs treating brand-eligible patients. This novel approach not only leverages two areas of high interest in the industry, but also allows for more targeted, relevant communications at key moments in the patient journey.
If you're looking to create a positive, lasting and differentiated first impression on patients, our team would welcome the opportunity to discuss how you can best incorporate these tools and strategies in your patient journey planning. Book some time with us today to start a conversation.
---
OptimizeRx Guest Contributor
OptimizeRx Corporation