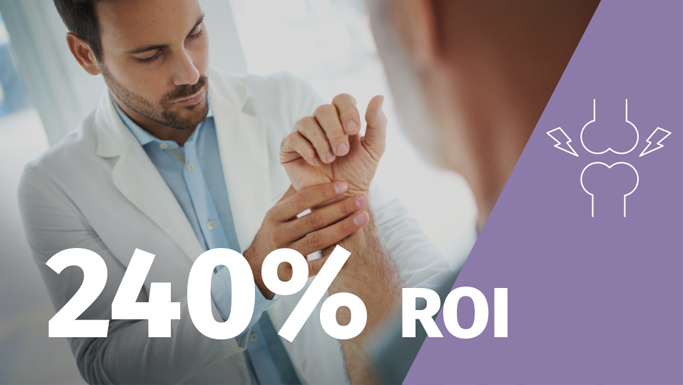 There are more than 100 different types of arthritis, but osteoarthritis (OA) is the most common—impacting 32.5 Million US adults and creating an overall economic burden of almost $140 Billion annually.
Compared to people of their same age, those living with OA experience greater pain, fatigue, levels of disability, and activity limitations—making pain-reducing treatment imperative for their quality of life. However, that treatment is often cost-prohibitive, sometimes to an unattainable degree.
According to the OA Action Alliance, the average OA patient spends over $11,000 every year for treatment and related expenses. These expenses surpass those of patients receiving therapy for tobacco-related health effects, cancer, and diabetes.
Life Sciences Brands Are Challenged to Distribute Osteoarthritis (OA) Therapies at an

Affordable Price.




To help overcome affordability concerns for patients and drive awareness of their therapy's increased health benefits, one OA brand turned to OptimizeRx Financial Messaging to help. Continue reading to see the results.
Increase HCP Awareness of Health Benefits

Because so many people live with osteoarthritis, there are multiple therapies poised to treat the symptoms. The life sciences brand in question had less awareness among both patients and physicians, however their therapy offered notable benefits over alternative treatments on the market.
OptimizeRx used physician profile and ICD9/10 code information to deliver educational communications about this therapy's clinical efficacy and value directly within patients' electronic health records (EHR). These targeted messages correlated with an increased volume of calls from physicians to brand representatives, allowing sales reps to provide more contextual information about the benefits of the therapy.
By including in-EHR brand communications at strategic points along the care journey, OptimizeRx was able to build brand recognition among potential treating physicians and increase awareness of the therapy. In fact, 24% of HCPs that saw the brand messaging went on to prescribe the treatment.
Address Affordability Concerns at the POC

Even with increased market awareness, affordability is still a major concern for many providers and patients.
In the case of this OA brand, OptimizeRx embedded information on the available copay card promotion in the EHR – directly at the point-of-prescribe. Not only did this information prompt HCPs to discuss drug costs with their patient, but it removed a potential barrier to prescribing, as well as increased patients' ability to afford treatment. When compared to a control group with similar profiles, HCPs who received messaging about the copay card prescribed an average of 10 more scripts than those who did not receive the copay card information.
Overall, the OptimizeRx Financial Messaging program delivered a 58% sales lift for this OA brand and 240% total return on investment. This data shows the impact that increasing medication affordability has on a patient population that already carries a heavy physical, emotional, and financial burden.
How Can Financial Messaging Help Your Brand?

By facilitating point-of-care conversations about therapy costs and providing financial assistance, OptimizeRx Financial Message helps physicians feel more confident prescribing therapy – which translates into measurable script lift.
See the results we've delivered in your therapy area, and learn more about how the OptimizeRx Financial Messaging Program can help drive prescriptions for your brand.
---
Start Driving More Prescriptions By Increasing Patient Affordability with Financial Messaging
---