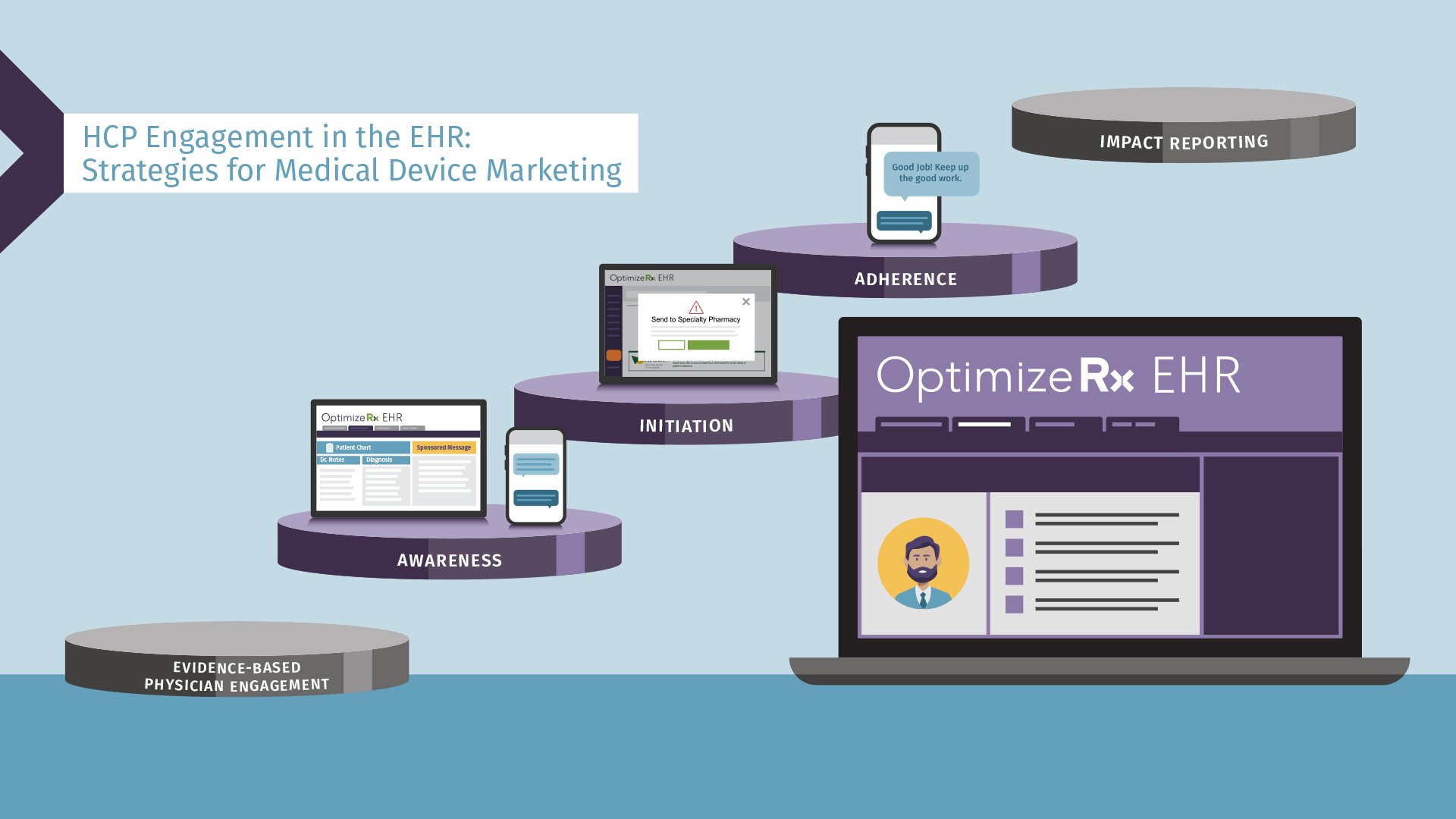 The Digital Point of Care: New Opportunities for Medical Device Marketing

It's a scenario we've all been in: you have a doctor's appointment about a new or worsening symptom. Often, the first thing you'll do is fill out a patient intake form that documents your symptoms, current prescriptions, prior diagnoses, etc. This information is then uploaded into the electronic health records system (EHR), for your doctor's review.
As the doctor asks you questions during the course of your appointment in order to reach a diagnosis and treatment plan, the EHR guides them through each step of the process collecting and confirming all necessary information.
This is a typical day in the patient journey and physician interaction with the EHR at the point of care, but how can it create new opportunities for medical device brand teams? The answer is to fully employ the EHR itself as a channel for information and content delivery.
The EHR as a Brand Channel




Imagine if you could ensure your brand information is top-of-mind for physicians at the exact moment they are interacting with, diagnosing, and treating patients. That's the power of the EHR as a channel for HCP engagement and medical device marketing.
Whether you're looking to support a new product launch, fend off a competitive threat, or just increase market share, there's no better way to communicate key brand information like eligibility criteria, benefits and differentiators, or financial support information. Here's why:
Data-driven targeting:

The richness of data available in the EHR means that your content can be delivered based on precise triggers, such as ICD10 codes, NDCs, and more.

Relevance and timing:

Your content is delivered at the moment a physician is determining a care plan and choosing treatment for an eligible patient.

In-workflow actionability:

Brand content is delivered directly to physicians' fingertips, increasing the likelihood they take action based on the information provided.
Unlike programmatic, email, or other digital channels, the EHR places your brand front and center at the point-of-care, but that's not the only reason it has a powerful impact on medical device marketing.
Adding Value to the Patient Journey

What truly sets EHR-based programs apart is the ability for your brand to deliver value throughout the many steps of the patient journey. So, let us briefly break down that journey and highlight the opportunities where you can better support and engage physicians.
Patient Diagnosis:

Using the data available from patient intake, prior EHR records, or even third-party sources, EHR-based messages can suggest specific diagnostic tests, prompt conversations about specific symptoms, and help physicians reach the correct diagnosis faster.

Treatment Selection:

Once a diagnosis is determined, EHR-based communications can present your brand as a potential treatment choice, emphasize patient eligibility criteria, and highlight key benefits and differentiators. As a results, physicians can make a more informed treatment (device) choice that leads to the best patient outcome

Treatment Affordability:

Device and treatment costs can be a barrier to prescribing, or a prevent prescription fulfillment by the patient, But EHR-based messages can educate HCPs and patients on expected copays, insurance and formulary coverage, and available financial support programs

.

Prescription/Order Routing:

Distribution pathways for devices can be complex, and cause delays in therapy start. EHR-based messages can clarify how to correctly route orders to fulfillment facilities, flag limited distribution channels, or notify physicians of the workflow to complete their orders.

MSL/Sales Rep Support:

With office access becoming more restricted, it can be harder for physicians to connect with brand MSLs or sales reps when they have questions. Integrating one-click communications with field teams directly in the EHR lowers the barrier to engagement, and allows physicians to easily reach out with prescribing questions or information needs.
---
Ready to Increase HCP Engagement for Your Device Brand?

In a world where physicians are bombarded by countless demands for their time and attention, the secret to cutting through the clutter is simple – it comes down to adding value, not noise, to care decisions.
EHR-based tactics not only offer unparalleled targeting, relevance and actionability, but their integration into physicians' workflow also means they are uniquely suited to delivering the value that leads to HCP engagement.
Learn more about OptimizeRx EHR-based solutions for medical device companies, and start building stronger HCP engagement with your brand today.
---