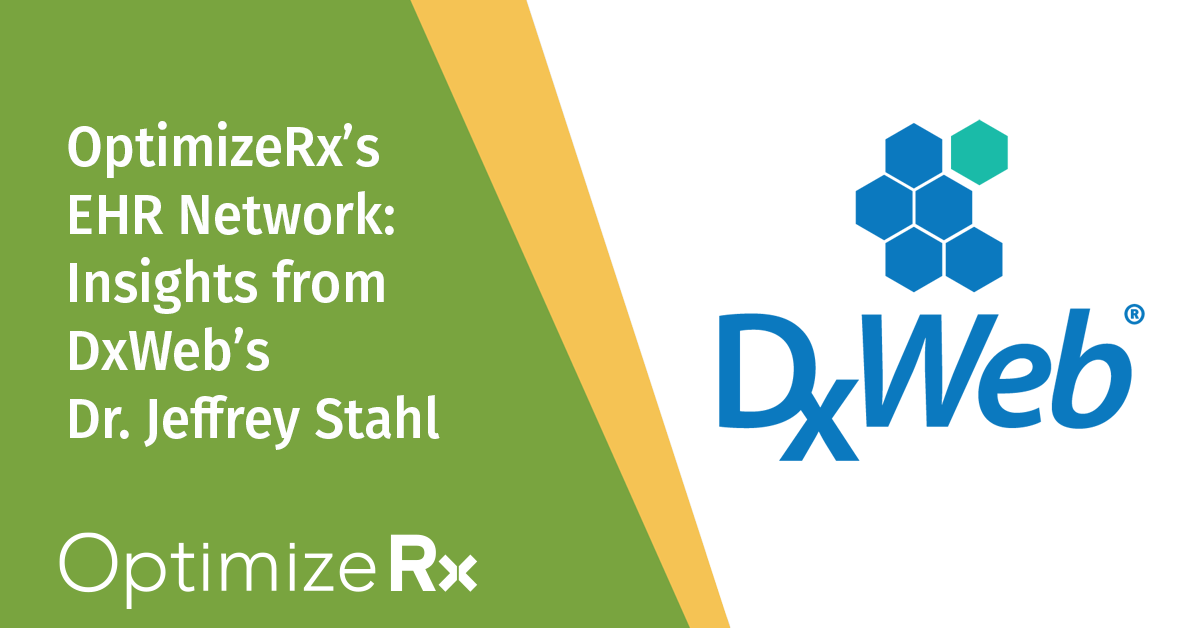 Life science manufacturers' interest in EHR-based solutions for HCP engagement is growing, but the recent and rapid growth in the market means that navigating various companies' claims about their EHR network access and reach can be confusing, and may lead to brands investing in underperforming or inefficient solutions, or creating a negative brand experience with low-value content.
OptimizeRx and our network partners are working together to increase market transparency, delivering a new content series designed to help marketers better understand how delivering life science resources in the EHR workflow enhances the physician workflow, why EHR and e-prescribing companies join a network like ours, and what life science brands should consider when investing in these channels.
In our first behind-the-scenes look, I spoke with Dr. Jeffrey Stahl, Chief Medical Officer and Director of Innovation at DxWeb, a medical software company developing medical applications designed to complement physician workflows. DxScript, their cloud-based e-Prescribing platform joined the OptimizeRx network in 2016. As a board-certified cardiologist and physician who is well-versed in clinical practice medicine, Dr. Stahl has been crucial to the enhancement of physician workflows and their corresponding software tools at DxWeb.
DxWeb Introduction and Care Delivery Technology Landscape

Dr. Stahl, welcome and thank you for joining me today. Can you give us a little bit of background on DxWeb?
DxWeb provides highly integrated software products built for the modern physician's workflow. Through our various HIPAA-compliant integrations, we allow HCPs to easily access patient data and resources for a seamless point-of-care experience, as well as stay ahead of the subscriber's technology needs and new government regulations. We've been a leader in the application of software products into the workflow of physicians, both in terms of allowing the physician to more efficiently and accurately prescribe appropriate medication, as well as messaging to those physicians within the workflow so it becomes a useful tool for the enhancement of that physicians' practice.
You are the Chief Medical Officer and Director of Innovation at DxWeb. In your role, you engage with many pieces of technology throughout the care plan design and delivery process. Can you give us a high-level overview of the landscape of these technologies? How have these two worlds – the clinical and the technical – come together for you?
I think the landscape of technologies is extremely variable. There are some very sophisticated, well-integrated electronic platforms, but others that are not integrated well into the physician workflow. Ideally, there should be end-to-end integration between the electronic health records and electronic prescribing platforms, as well as a messaging platform within the doctor's workflow. I would say about 80% of the technology solutions we have seen are not well integrated, and about 20% of them are very substantial, very intelligent – both our own solutions and other platforms.
I believe the root of our success is due to integrating the technologies that are available. This thorough integration has resulted in DxWeb being certified by multiple outside vendors, like Surescripts™ because of our excellent integration of their data as well as EHR data.
Another key element of our integration success is due to constant and intentional evaluation. We have specialists consistently assessing physician needs and our products in particular, as well as evaluating competitive products to see how we can continually improve. We have been very well accepted by the physician community.
What would you say are some of the key differentiators of your DxScript solution and DxWeb as a company?
For DxWeb as a whole, our main differentiator is the overall engineering of the platform. Our software engineers have built a platform that acts and reacts seamlessly, placing the cohesive and coherent data in front of the physician. Our ultimate goal is to increase the science of medicine, so that the doctor can practice the art of medicine.
DxScript® is our HIPAA compliant, Surescripts™ and EPCS certified, cloud-based ePrescribing solution that puts insurance, pharmacy benefits plan eligibility and formulary information at the provider's fingertips at the point of prescribing. Our database contains the most up to date FDA and DEA released medications as well as nationwide pharmacies, providing our users with real time drug-to-drug, drug-to-allergies and drug-to-food contraindication alerts at the point of care. It can also suggest alternative drugs in the event there is a contraindication or allergy alert for a specific drug, with no proprietary hardware or software required.
Facilitating Life Science Manufacturer Resource Access in the Physician Workflow

Your team has made the decision to allow life science manufacturer resources to be provided throughout the DxWeb workflows. Why have you chosen to allow life sciences to deliver that content in your platform?
We believe it's absolutely necessary that life sciences be able to appropriately support the physician in their workflow. HCPs bear a significant responsibility in terms of keeping up with current clinical data, knowing what medications are available, the appropriate dosing of those and the appropriate indication. This information is continually changing, and it requires constant vigilance by HCPs. We aim to make this pursuit easier for the HCPs using our platform.
The presentation of contextually-directed data and educational messaging to the physician within his or her workflow enhances the capability of the physician aligned to the clinical activity they are directing at any given moment. After all, life science manufacturers, e-prescribe platforms, and physicians all share the same goal: we are trying to get the right medication, to the right patient, at the right time. By integrating the data and information that's coming from the life sciences industry, we're able to enhance the physician's ability to deliver high-quality care. I've certainly appreciated having access to these resources over my years of practice.
If we look at the statistics, about 85% of the medical care that a patient receives is in a physician's office, with a significant portion of that medical care involving appropriate treatment with the correct medication. Life science manufacturers have brought wondrous new therapeutics into play, and we take pride in helping physicians to understand that through appropriate messaging about new medications.
As a practicing physician, you have regular contact with life science organizations. But DxWeb, as a technology platform for physicians, does not work directly with life sciences. How is it that you enable the practice of this resource delivery within DxWeb?
Access to physicians has always been necessary for the life sciences industry to educate and communicate about their products. However, the ability for the life science industry to engage appropriately with physicians has changed substantially, especially during the pandemic. There is significantly less personal interaction.
In light of these changes, allowing life sciences to present appropriate informational material to the physician within his or her workflow and when care decisions on prescribing and therapeutics are being made is key to helping physicians make informed choices. Ultimately, our job as physicians is to do what's best for the patient. And as a company we're trying to help physicians do exactly what's best for the patient, when they are making treatment decisions.
How do you gather and curate the information from life sciences organizations to ensure it's contextually relevant?
We start by working with partners who interact with life sciences companies to source the content. We are very selective about the partners we choose to work with. Then a team that includes myself, other physicians, and our engineers review and assess the information and programs being offered to determine how to present it appropriately. We help decide exactly in what part of the workflow it will be presented. For example, whether it's the beginning of the prescribing process, the end of the prescribing process, or when the physician initially logs on to the software programs we offer. It's a very complex decision-making process which requires different levels of expertise. We put eyes on every program
It sounds like there is a pretty in-depth scrubbing and review process, as well as setup process before this content actually is in front of the provider.
Correct. We've learned that just putting out information is not effective. Instead, we have to find a way to cut through the noise in terms of how physicians are interacting with data on different platforms. There's a lot of information they have to process in these platforms. Our information is curated and presented in a very succinct fashion to the correct physician when they are actually making the prescribing decision, which is part of what makes us such a unique platform.
There's a funnel of clinical data, where information can be spread to a tremendous amount of people who are practicing medicine many, many times so they can make effective care decisions. That's the top of the funnel, but DxWeb is actually at the bottom of the funnel. We know who's getting the information, how the medical information is being presented, and when it's being presented. It's extremely impactful and useful for the doctor.
We have hundreds of thousands of physicians using our platform, who write tens of millions of prescriptions on a monthly basis.
We have open feedback lines between my team and our doctors, as well as a superb physician helpline and support system. As a result, we know the reception both our software and our messaging receive, and I can tell you the number of questions and issues that we experience is less than one in ten thousand.
Relevance, Privacy and the Growth of HIT

You mentioned that DxWeb is a "bottom of the funnel" clinical solution, and as such – one of the most valuable messaging opportunities. Given this, there are likely several organizations out there looking to integrate or embed themselves in your workflow. Can you tell us how you limit the entities that wish to have access to your platform for purposes of delivering information out to your physicians?
We use a thorough and substantial vetting process to assess the organizations that approach us, focused on understanding what they would like to accomplish with their messaging as well as the actual messaging content. We have physicians, including myself, that are constantly looking at the messages to assess what the impact would be, and should be, determine whether the messages are medically appropriate and decide how they are going to be delivered.
This process is crucial, as we're not simply sending a message. We're strategically placing educational messaging in a very specific point in the workflow of providers.

It's highly targeted, contextual, and incredibly clinically relevant.
Exactly. We're messaging doctors in an appropriate fashion. The contextuality and intentionality of where we place that message will limit the amount of messaging that any physician receives so that all messages have value in the workflow.
Can you share with us how you protect the privacy of your providers and users on your platform?
The privacy of our physician's identities and patient information is of utmost importance and fully HIPAA compliant. We have a responsibility for protected health information, and for accuracy of information. We believe the activities of physicians on our platform should stay in the clinical realm, used to drive contextual messaging to support care delivery first and foremost.
To that end, we have multiple levels of certification. We're certified by SureScript™, by Drummond, by ExoStar for electronic prescribing of Controlled Substances (EPCS). We do penetration testing of DxWeb twice annually by an outside expert source, and our applications are fully encrypted. In the last 15 years I proudly say that we've never experienced a breach, and we make sure that at every level our engineering expertise and security engineering is above reproach.
You mentioned the rapid growth of HIT over the last couple of years – especially following the pandemic. That growth has not only affected HIT but has also affected HCP engagement and the clinical workflow. Can you give us your perspective on the growth of digital engagement and the number of players that now exist in the industry? Is this growth good for the industry?
A shift to digital engagement between physicians and representatives of pharma and life sciences was necessitated by the pandemic that we all experienced, but I think it's changed the landscape, most likely for decades to come. Not because of the fear of COVID infection anymore, but because these experiences opened up everybody's eyes to the capabilities of digital engagement.
A lot of today's digital platforms grew out of platforms that were previously available to business and industry as a whole. But what sets the strongest platforms apart is the ability to provide consistent, curated messaging in a secure, demonstrable, and archivable way. There are some platforms – such as ours – that have this capability.
While COVID may have served as the impetus for the growth in digital engagement, future growth and acceleration is no longer necessarily only tied to the pandemic. It's the fact that physicians can be educated and communicated with much more efficiently through a digital platform.
Thank you Dr. Stahl. Are there any closing thoughts that you might want to share?
Only that it's important to also consider the larger picture when considering the benefits of delivering appropriate information to the doctor, to the prescriber, to the appropriate PA, at the correct time. By putting information and engagement tools in the hands of the doctors in their workflow at the right time, we can improve patient outcomes and compliance, which in the long run reduce the cost of patient care. That's the efficiency created by treating correctly identified patients, with the correct medications, at the correct time, and it benefits the entire healthcare industry.
"By putting information and engagement tools in the hands of the doctors in their workflow at the right time, we can improve patient outcomes and compliance, which in the long run reduces the cost of patient care."

Dr. Jeffrey Stahl
---
See the results OptimizeRx's platform and partner network have delivered for our clients
---
VP Strategic Partnerships
OptimizeRx Corporation