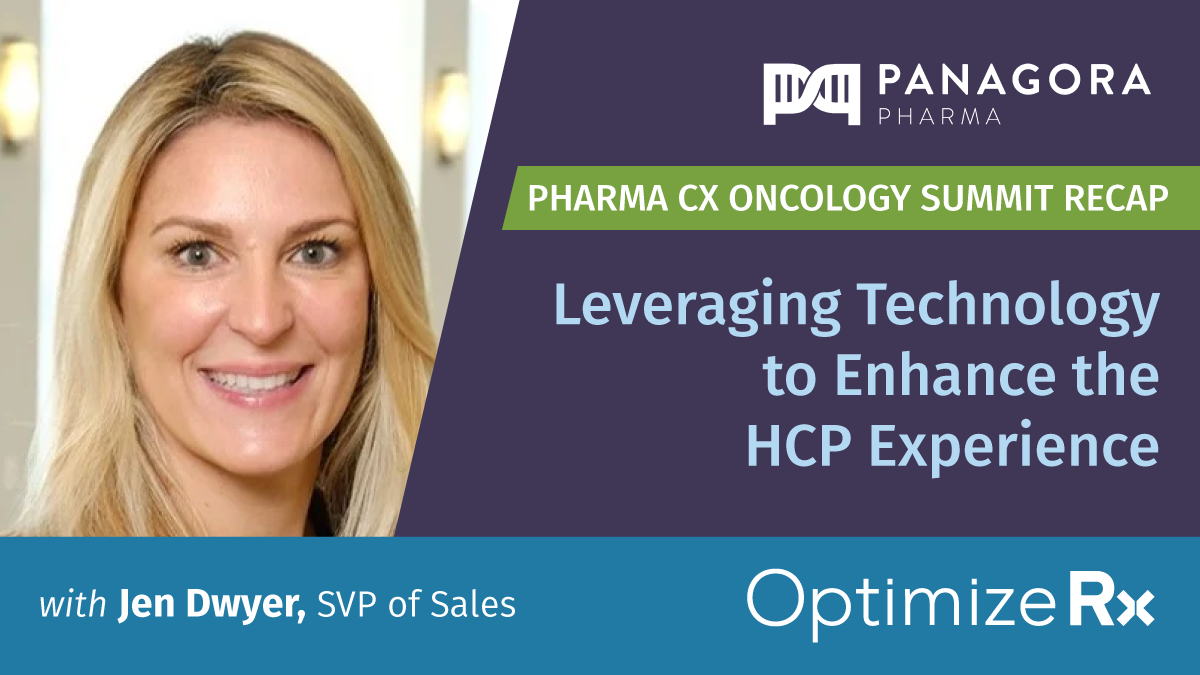 I recently had the chance to participate in a panel session at the Pharma CX Oncology Summit. Our topic was the oncologist customer experience – specifically how technology shapes oncologists' treatment and brand experience, and the extent to which pharma manufacturers have been able to optimize that experience.
In today's oncology landscape, the pace of treatment advances continues to accelerate and patients (and their providers) are reaping the benefits in terms of better health outcomes. In fact, the American Cancer Society reported earlier this year that cancer mortality has dropped 33% from its peak in 1991.
Yet alongside the growth in treatment options, the workload of all physicians is also increasing – due to staffing shortages, post-Covid burnout, more complex administrative requirements, and other factors. As a result, it's increasingly difficult for HCPs – including oncologists – to stay on top of the latest developments and medical knowledge. It's here that pharma manufacturers can play a role in reducing those burdens, but only when done in a way that adds value, not additional noise.
Our panel centered on four key questions that can help oncology brands unpack and assess their current HCP engagement strategies and technologies. Here are my highlights and takeaways from that discussion.
How are pharma manufacturers doing in terms of the customer experience for oncology providers?

As is true in many parts of our industry, there are areas where we are doing well, but also still room to improve brand experience for oncologists. While the shift to digital strategies has opened more – and more convenient – channels, brand content is not always digestible or relevant to the care an oncologist is providing. It's become too easy to get lost in impression volumes, physician reach or other indirect metrics that don't give an indication of the value and impact of the information provided.
One suggestion in response was a "return to basics" –investing in tactics and solutions that strengthen oncologist/brand relationships by providing personalized information, support and resources that reflect oncologists changing and growing needs throughout the patient care journey. By finding balance between a consistent brand presence and highly tailored content, pharma can shift from being a source of "marketing" to a source of assistance (and value).

What makes oncology HCPs and their experience unique? How should we approach those differences?

We discussed a number of factors that set oncologists apart from other specialties, which reflect the tremendous growth in research referenced above and the relationships they form with their patients.
With the increased understanding of tumor biology and the corresponding rise in diagnostics, targeted therapies and immunotherapies, the sheer amount of data to ingest and process is overwhelming – and reduces the time available from direct patient care. Again, there's a need for balance that helps oncology HCPs to stay up to date without infringing on their availability to patients. What's more, pharma needs to make it easier for oncologists to turn the latest medical knowledge into actions that help their patients. It's here that point-of-care communication technology through the EHR or related channels can have a positive impact by surfacing it during patient care moments.
Another factor raised was the wholistic approach to care management in oncology. Oncologists don't just focus on the cancer the patient was diagnosed with, but take their full clinical profile (comorbidities, prior diagnoses, etc.) as well as the opinions of other care team specialists into account. For this reason, the relationships between oncologists and their patients can be deeper than in other therapeutic areas.
The takeaway for oncology brands is the importance of considering the comprehensive patient journey in program planning. Only when brand content delivery and engagement opportunities are precisely aligned to anticipated care milestones and individual patient situations, does it achieve the relevance and value that deliver a positive customer experience.
Does the oncology HCP experience really matter?

A cynical answer to this question may be no – that oncologists are set in their ways when it comes to prescribing preferences and treatment decisions. But the customer experience is key in building brand trust and manufacturer credibility, which leads to better treatment understanding and more optimal therapy decisions.
That's why it's so important for brands to focus on personalized, patient-centric strategies for HCP engagement, not generic marketing. Each oncologist – and each of their patients – all start at different points on the care journey, so aligning the information they see with their patients' needs on that journey is critical.
When brands prioritize tools and technologies that center on the HCP and patient experience, it pays dividends to all parties – from reduced HCP workloads, to improved patient outcomes, to stronger brand performance.
What initiatives and technologies are improving the oncology HCP experience?

The rise of digital channels, tools, and technologies can lead to the generic, impression-focused programs referenced earlier, but also create new opportunities for brands to deliver the personalized, patient-centric content that creates a positive customer experience.
The most well-known of these may be point-of-care channels, notably the EHR. Due to both their centrality in patient care visits, as well as data-rich environment, they offer a high degree of personalization and relevance through ICD10 or NCD targeting. In addition, they allow for brand information to be delivered seamlessly when care decisions are being made.
However, technologies like artificial intelligence are opening up even more possibilities through a predictive approach to audience creation and segmentation. AI models that draw on multiple data sources to anticipate future patient care needs or treatment eligibility allow brands to segment and prioritize communications to HCPs based on their patient flow. What's more, they also allow for more coordinated and integrated communications across multiple digital and live channels, as well as for information delivery on the channels each physician is most likely to engage with.
At the end of the day, the technologies with the greatest opportunity to impact the oncology HCP experience, build brand relationships, improve patient outcomes, and deliver brand commercial success are those that better align brand information to the patient care journey – delivering the value and relevance HCPs crave, without adding to their substantial workflow burdens.
---
Interested in learning more about how OptimizeRx helps life science manufacturers better engage and support HCPs? Explore our Dynamic Audience Activation Platform (DAAP).
---
SVP Sales, MedTech
OptimizeRx Corporation
Jenn is an innovative and dynamic sales management professional with the ability to quickly and concisely analyze and understand marketplace conditions, and develop actionable recommendations. Specialties: Sales and Distribution Strategy, Strategic and Tactical Planning, Field Sales Force Management