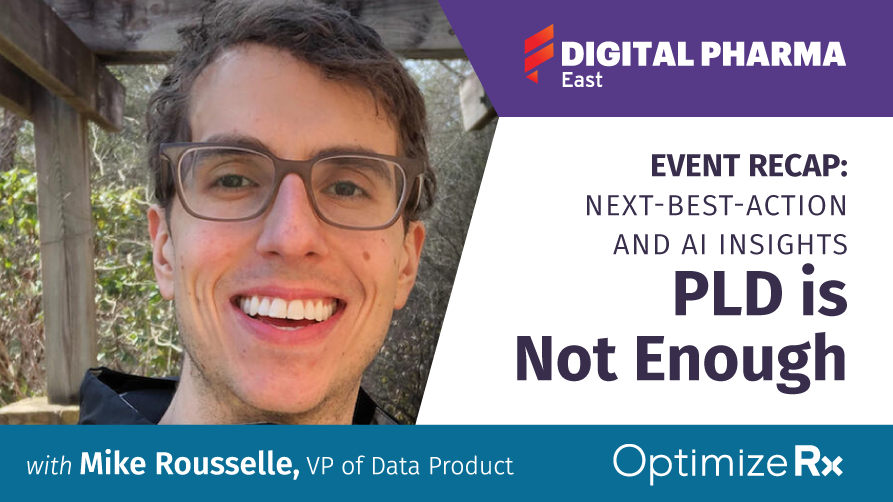 Prioritizing Patient Needs with AI-Driven Next-Best-Action Strategies

In today's rapidly changing healthcare landscape, HCPs have made their preferences clear. They're seeking clinically-relevant content that helps them make the best treatment decisions for their patients, including patient eligibility, financial support programs, prior authorization guidance, formulary information and more.
As our industry evolves towards omnichannel, next-best-action strategies for HCP engagement, our reliance on physician-level data (PLD) to drive content timing and targeting limits brands' ability to align information with specific patient care situations. That means brands can't ensure content relevance – a key objective of next-best action. While PLD can play a role, it falls short of painting the entire picture, leaving gaps in truly understanding when and where a brand message will be most valuable for HCPs and patients. Relevance is the ultimate currency in digital messaging, and relevance is defined by the patient.
During my recent session at Digital Pharma East, I had the opportunity to share insights on why PLD is not enough for next-best action, and the essential role of patient-level data in maximizing your brand's impact.
Challenges of Sole Reliance on Physician-Level Data and the Shift to Patient-First Thinking

Historically, marketing strategies have placed physicians (and physician-level data) at the core of HCP engagement, but there are challenges with focusing solely on physicians.
Consider scenarios where a brand is regularly communicating with an HCP with a strong prescribing history but sees a decline in their prescriptions. If a provider changes their prescribing patterns, it could be due to shifts in patient demographics or needs rather than a change in the physician's preference. Often, the missing element is patient-level insight (and data).
Physicians today are looking for clinically-relevant content tailored to patient needs. For brands, the objective is twofold:
I

dentify

ing

patients who

are ideally suited for brand therapy, by predicting their next care milestone

Delivering relevant brand messaging to their treating physician or care team during the window in which they are likely to be seen – on the channels where HCPs are most likely to engage with that brand content.
Combining insights from both physician and patient data allows brand communication strategies to achieve the greatest relevance, impact, and actionability. And the result is a "win-win-win" scenario – reducing information fatigue for HCPs, helping patients start on therapy more efficiently, and increasing prescription volumes for brands. This is ONLY possible if we focus first on patients.
True Next-Best

Action Needs a Patient-First Approach – and the Right AI Infrastructure

If we define "next-best-action" (NBA) as determining the most effective next marketing action to bring physicians closer to prescribing your brand therapy, it's clear why a patient-first approach is critical. Without a constant finger on the pulse of patient volumes and flow, the impact of most of the common next-best-action features is limited.
Tools like channel selection, sequential messaging, A/B testing, message volume reallocation, are increasingly being used, but they can only live up to their potential when the audience they are directed at can actually take action on the brand information provided. And what makes brand information actionable? Whether or not that physician is currently seeing an eligible patient. Without a patient-oriented approach at the heart (driven by real-world data and AI to find and target patients), manufacturers risk devoting massive resources to NBA campaigns that aren't likely to be more impactful than simple message sent based on a static NPI list.
AI is a key part of next-best action – offering the "smart" processing power necessary to analyze patient real-world data (RWD) to predict future care milestones, as well as the ability to seamlessly direct brand information to the channels favored by their treating physician. And when the right data and AI model is used – considering the full longitudinal records of brand-eligible patients – we can see the impact of next-best action on script lift, new patient starts, and incremental revenue from HCP engagement programs.
For example, we worked with a rare disease brand that wanted to increase demand for its specialty medication. With the insights provided by a patient-first approach and predictive AI, this brand found HCPs without prior scripts but with qualified patients. We looked outside the traditional physician-level datasets and focused on patient-level data to identify HCPs with eligible patients but without prior prescribing histories. And the results speak for themselves – the brand saw a 19% average script lift from our AI-generated list, compared to a 3% average script lift from the original NPI target list.
Elevating HCP Engagement with Patient-First, AI-Driven Strategies

While physician-level data is plentiful, incorporating patient-level data is paramount for life sciences brands to truly maximize their impact. It's a shift from a broad approach (focused on the message recipient) to a more targeted, patient-first strategy (focused on the impact of that message), ensuring that life sciences brands not only remain relevant but also drive better patient outcomes.
Interested in exploring how your brand can take a similar AI-driven approach to meeting both physician and patient needs? Book a meeting with our team today to learn more about how our Dynamic Audience Activation Platform (DAAP) uses a patient-focused approach to increase the relevance, actionability and impact of HCP engagement programs.
---
VP Data Product
OptimizeRx Corporation