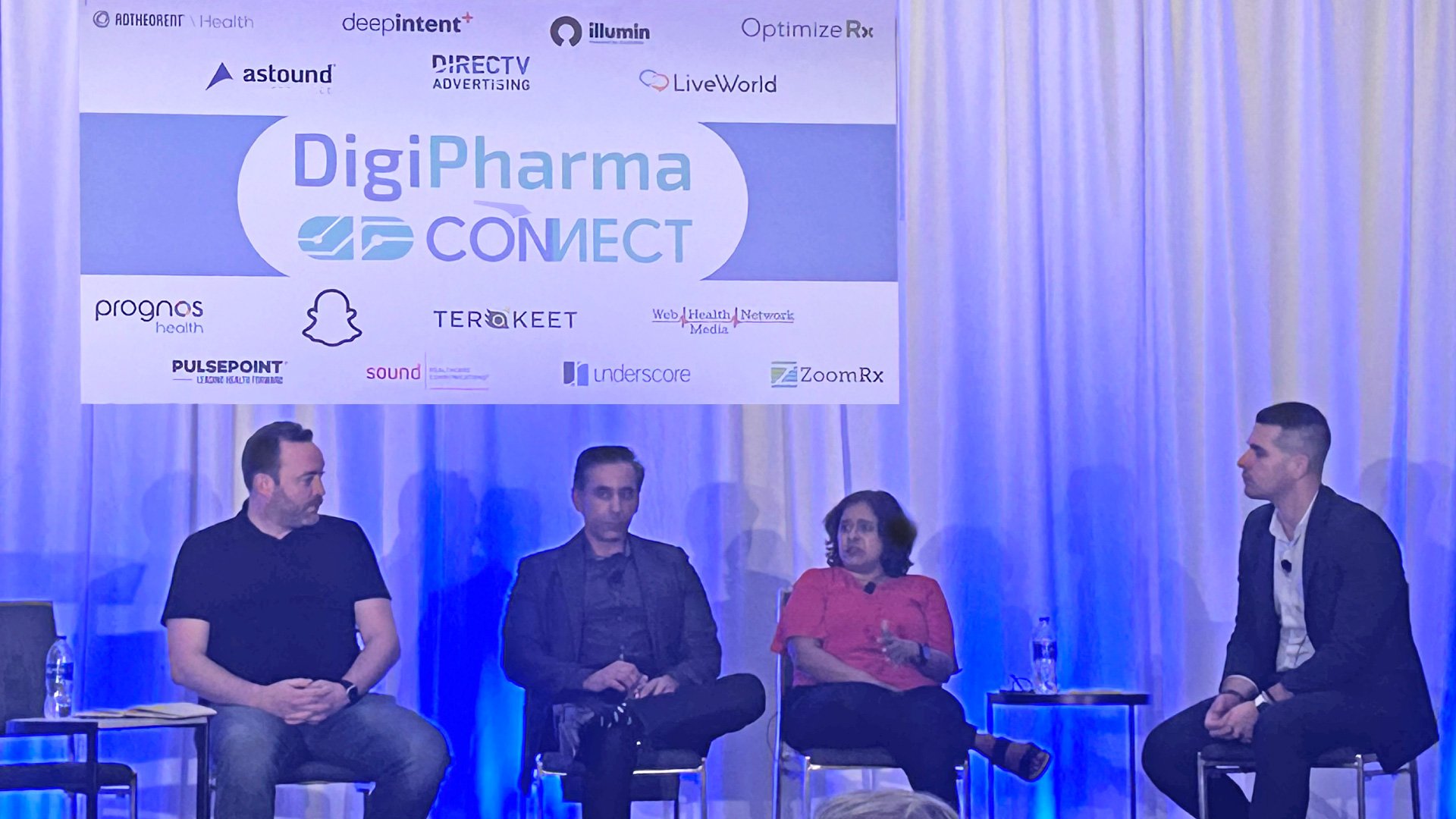 HCPs marketers continue to embrace digital channels as they pursue "omnichannel" strategies, but social media is often a misunderstood – or overlooked – channel to engage and educate physicians. At the recent DigiPharma Connect conference, I had the chance to moderate a panel exploring how social media is playing an increasing role in physicians' care decisions, and the opportunities for brand marketers looking to boost HCP engagement. Our panel of industry experts included:
Anupam Singh, Head of Digital Marketing and Media, Novocure

Priya Venkataraman, Director of Digital Channels and Omnichannel Experience, Bristol Myers Squibb

Chris Nugent, Director, Digital Commercial Innovation, Sumitovant Biopharma
While our discussion covered many areas of omnichannel HCP engagement generally, there was a heavy focus on both traditional and non-traditional uses of social media as a key campaign channel. And as the use of social media forums is maturing, many companies are starting to work out how and when to make use of these platforms to better engage and support HCPs when they are making patient care decisions.
The strongest social media programs for HCP engagement are those that prioritize adding value at the point-of-care with clinically-relevant content, and reflect a cross-channel coordination with other engagement tactics.
How well these forays into social media are resonating with patients and consumers, however, varies. The strongest approaches are those that prioritize adding value at the point-of-care with clinically-relevant content, and reflect a cross-channel coordination with other engagement tactics. In fact, two key areas of focus during the session were program implementation, and knowing the 'rules of the road' when it comes to social media in pharma.
Know Your Objectives

Social media allows pharma companies to engage with patients and HCPs in a more meaningful way. By creating relevant and valuable content, pharma companies can establish themselves as a thought leader in their respective areas of expertise. This can lead to better relationships with patients and HCPs, but throwing ideas about a social media campaign against the wall and hoping they will stick won't work. Instead, pharmaceutical companies need to have a targeted, well-thought-out approach.
Our panel of experts advised pharmaceutical companies to step back and ask some key questions about their objectives. These include which stakeholders they hope to engage with their social media presence, what outcomes they are looking for, and how they will measure the results.
One pharma company that has been highlighted for its effective approach to social media is GlaxoSmithKline, which makes use of forums including Facebook, LinkedIn, Twitter, YouTube, and Flickr. The company adjusts its content and approach for each forum, engaging people with what the GSK team are doing through LinkedIn posts, posting more feel-good stories on Facebook, and having multiple profiles on Twitter used for various reasons, such as a dedicated handle to enable engagement during conferences.
While the strategies are well-considered, the company's social media experts do believe in experimenting with different ideas and forums and learning from those experiences. Such experiments, however, should be undertaken with advice from legal and compliance experts, due to both the regulatory requirements in play, as well as concerns about patient and data privacy.
By some reports, Novo Nordisk is also leading the way in terms of social media engagement. For example, in Canada Novo Nordisk launched a social media advertising campaign for its Type 2 diabetes product Ozempic on LinkedIn that aims to build awareness, name recognition, and interest in the product among healthcare professionals. Company officials say they are continuing to monitor the success of the initiative, and so far indications show that the program is helping to engage physicians, who are following up to get more information. The company also has a wide range of social media pages dedicated to disease awareness, such as Facebook pages on hemophilia and diabetes, as well as Twitter and YouTube pages focused on diabetes awareness.
Realizing Outcomes with Social Media

Social media platforms allow for precise targeting by everything from demographics to NPI number, at that precision can be further enhanced through the use of external real-world data and artificial intelligence algorithms – leading to highly cost-effective programs. What's more, the extensive data analysis tools available allow pharma companies to track engagement and analyze the success of their marketing campaigns. This information can be used to refine marketing strategies and make data-driven decisions.
Another area where social media has huge potential is with patient recruitment. Social media platforms have a massive user base, which can be especially beneficial for rare diseases or conditions where traditional marketing or outreach methods may not be as effective. Yet, often recruitment sites use antiquated methods to get patients into clinical trials, such as going through binders of patient profiles.
As pharmaceutical manufacturers and their agencies of record continue to expand their presence on social media platforms, we'll likely see further innovation in the space. While pharma has generally been slow to embrace new tactics, due to the regulatory and privacy considerations of our industry, the targeting and efficiency benefits of social platforms allow it to be another powerful tool in the omnichannel arsenal. And as with other point-of-care tactics, the strongest engagement continues to come from highly relevant, actionable content – delivered at the exact moment when care decisions are being made.
---
Interested in learning more about how OptimizeRx's NPI-targeted approach to social media uses artificial intelligence and real-world data to drive clinical relevance and actionability?
---
OptimizeRx Guest Contributor
OptimizeRx Corporation