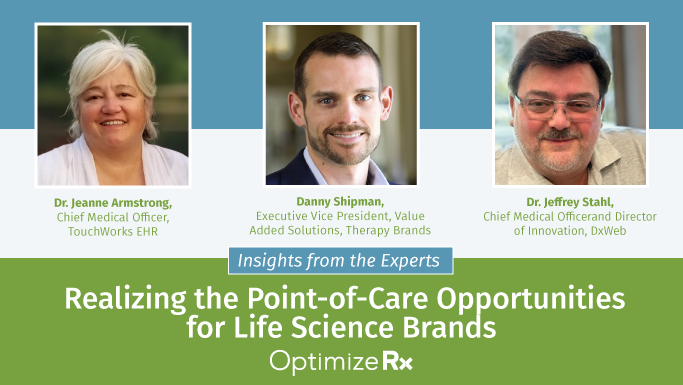 Navigating the EHR Landscape: Market Challenges and Point-of-Care Solution
Life science brand's need for effective HCP engagement solutions at the point of care (POC) is critical. The American Medical Informatics Association's (AMIA) article indicates that the average physician spends over five hours in their electronic health record (EHR) system for every eight hours of patient care. However, as the market for (POC) engagement solutions grows, sorting through providers claims about EHR network access and reach becomes challenging for brands – and the risk of investing in underperforming solutions or creating negative brand experiences with low-value content is all too real.
In our new eBook, we're sharing insights from three EHR experts on how life science brands can drive HCP engagement by realizing EHR workflow opportunities to deliver clinically-relevant, actionable resources that add value to care decisions.
Here's what your brand should consider when investing in point-of-care channels:
Adding Value to the HCP Workflow and Care Delivery

Realizing point-of-care opportunities isn't just about sharing brand content—it's about addressing HCP needs and pain points, then delivering curated resources where and when HCPs are looking for them.
For example, Dr. Jeanne Armstrong from TouchWorks EHR, noted that the increasing pace of new medical information makes it substantially more difficult for HCPs to find the most up-to-date data and translate it into effective patient care. This is one area where life science-sponsored content can be an invaluable asset, providing the latest relevant brand content that helps providers determine if a medication is suitable for a patient while the care milestone is happening.
Danny Shipman, Executive Vice President of Value Added Solutions at Therapy Brands, also echoed the importance of relevance – whether it's affordability information, therapeutic support, etc. – the contextual link to the patient is what makes brand content actionable. And the quest for contextual and clinical relevance is a key driver of growth and innovation in EHR-based programs, especially as data accessibility and processing becomes more sophisticated.
Delivering value to HCPs isn't just a matter of convenience; it's about empowering them with the user-friendly tools they need to navigate the evolving, increasingly complex landscape of patient care more effectively. With the right approach to POC programs, life sciences brands can provide curated, consistent messaging in real time and lower physicians' knowledge burden, as well as shift away from generic marketing efforts that don't resonate with providers.
---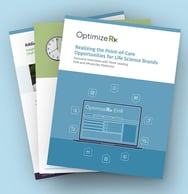 Interested in more insights from Dr. Jeanne Armstrong, Danny Shipman, and Dr. Jeffrey Stahl? Download OptimizeRx's latest eBook to read their exclusive interviews.
---
Data-Driven, Digital Integration

It's no surprise that the healthcare landscape thrives on strategic partnerships that streamline access to essential resources, but how can brands choose partners that align with their HCP engagement strategies?
According to Dr. Jeffrey Stahl, Chief Medical Officer at DxWeb, a leading medical software company, integration is key. After all, life science manufacturers, EHR/e-prescribe platforms, and physicians all share the same goal: get the right medication, to the right patient, at the right time. With the right partners, brands can tap into the data-rich environment of the EHR to guide in-workflow resource delivery. But these data-driven insights can also be used to drive integration and alignment across addition HCP engagement channels, so they also become more relevant – and valuable – to physicians.
Elevating HCP Engagement within the EHR Landscape

The path to efficient HCP engagement is clear: by seamlessly integrating the EHR into their HCP engagement strategies, brands not only share timely and clinically-relevant messaging, but also harness the data-rich environment for more accurate targeting and enhanced reach.
Interested in more insights from Dr. Jeanne Armstrong, Danny Shipman, and Dr. Jeffrey Stahl? Download OptimizeRx's latest eBook for their exclusive interviews and thoughts on how your brand can fully realize the opportunities at the point-of-care.
---