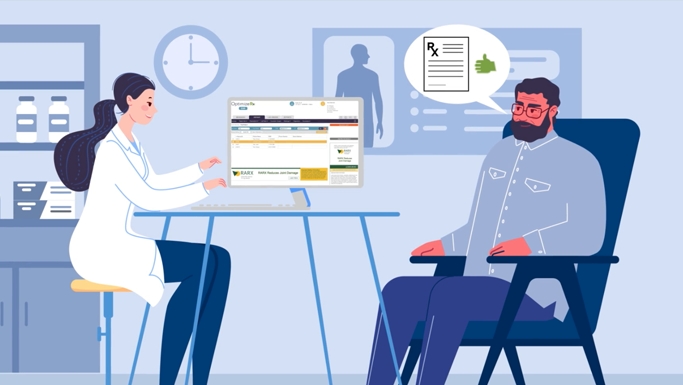 Pre-existing condition. This is a term we heard thrown around a lot at the start of 2020. It's still a part of our day-to-day vocabulary, especially if you're one of the estimated 40% of Americans living with a medical-related ailment that puts you at higher risk for experiencing a serious level of COVID-19 infection.
At the onset of the pandemic, this classification also put you at a higher risk of losing your job—and therefore your health insurance—due to pandemic-related fears or serious illness. KFF estimates that roughly 2-3 million people may have lost employer-based health insurance coverage between March and September of 2020.
While the unemployment rate has trended down over the past 2.5 years and high-efficacy vaccines have since become available, vaccine-resistant variants of the COVID-19 virus are on the rise. Additionally, inflation-related fears are driving consumers to be more cautious with their spending. These factors leave the pharmaceutical industry with an increasingly important problem to solve:
What can drug manufacturers do to address affordability concerns and get therapies into the hands of at-risk patients?
This is the challenge one respiratory brand team set out to address. After creating a new drug delivery mechanism, which offered substantial patient benefits over the prior version, they needed a strategy to:
Disseminate this new information to applicable providers at the right time

Initiate cost-savings opportunities at the point-of-care, making this treatment more affordable and accessible
Using OptimizeRx Financial Messaging to overcome these two barriers, the brand saw an increase of 3,000 incremental scripts over the course of ten months. Keep reading to see how the program works.
Awareness: Point-of-Prescribe Engagement


In a competitive treatment landscape with multiple alternative therapies available, this respiratory therapy brand needed to create awareness among pulmonologists, primary care physicians, and other relevant prescribers. Specifically, they wanted to highlight the available coupon opportunities to mitigate cost concerns that could prevent patients transition to an improved version of therapy.
By choosing to work with the OptimizeRx network of over 300 EHRs and ePrescribing platforms, the brand had access to 90% of Pulmonologists, 81% of Primary Care providers, and a growing number of HCPs across specialty areas, based on physician counts published by the Association of American Medical Colleges.

The OptimizeRx network reach and point-of-care platform access allowed the brand to strategically target 7,000 high-value providers when they were actively treating therapy-eligible patients. As a result, 51% of the target providers issued a new prescription for the therapy after receiving the financial messaging promotion.
Access: Facilitating Cost Conversations

If their patient cannot afford to continue long-term treatment on the therapy, a physician is more likely to prescribe a lower-cost alternative, despite the benefits of the HCP's preferred therapy.
For brands that have low-cost competitors or alternative versions, finding effective methods to communicate their cost-savings program is vital. But it's not enough to provide cost-reducing incentives—in order to truly drive increased script volumes, it's imperative for brands to provide prescribers with real-time cost information, empowering physicians to have financial conversations at the point of care.
OptimizeRx positioned the respiratory brand and its available savings offers directly in patients' charts, so providers could easily identify qualified patients and discuss the medication cost during the patient visit. This program also relayed savings opportunities to pharmacies and patients, reducing out-of-pocket costs for the consumer. When applied to this respiratory brand, the Financial Messaging program delivered a 58% increase of total script lift among targeted prescribers—a measurable impact on the physicians' decision-making process.
The Results

OptimizeRx's Financial Messaging program delivered a 443% ROI over the course of just ten months. But the true success of this campaign lies in the individual patients. By raising awareness and increasing affordability, this brand made it easier for patients to start and stay on treatment—an act that ultimately promotes better health outcomes. In turn, patients gained access to an improved, potentially life-saving therapy.
Could your brand do more to raise HCP awareness of savings offers and increase patient affordability? Learn how the OptimizeRx Financial Messaging program overcomes cost and access barriers by placing your offer at the point of prescribe.
---