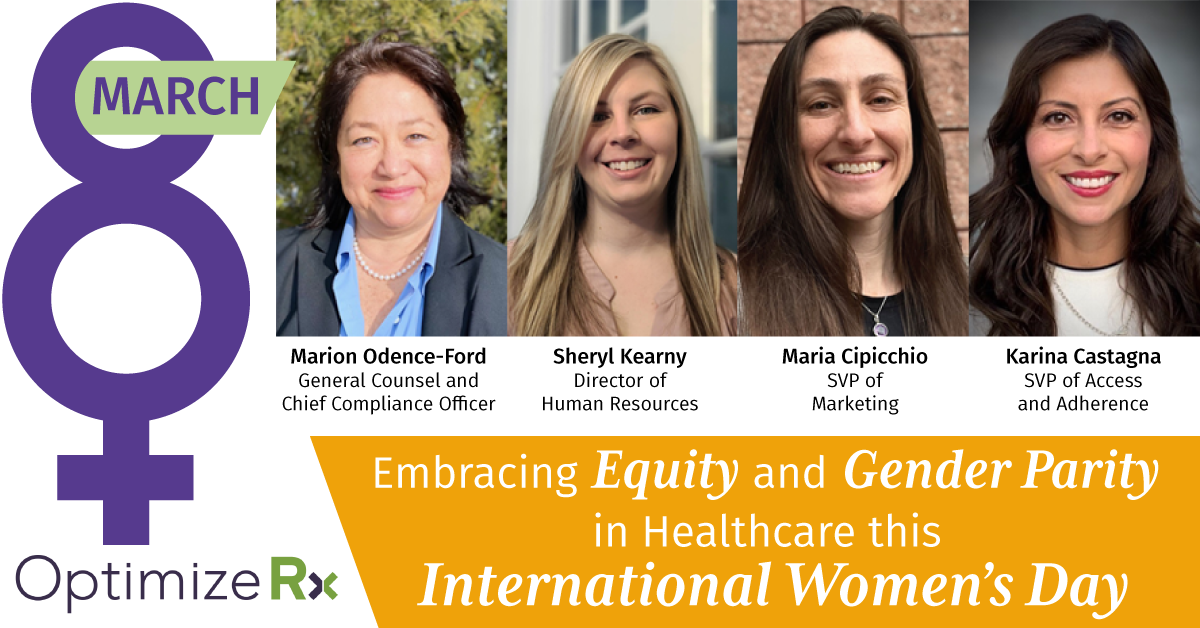 How can we advance gender parity and celebrate the women forging innovation in healthcare?

At OptimizeRx, we're proud to celebrate International Women's Day and support its mission of promoting gender equity. While gender equity is progressing at a snail's pace, we're thrilled to have many accomplished women leaders at our company and are proud of all their work in promoting gender parity in the healthcare industry. In honor of this special day, we want to highlight some of these exceptional women and their experiences, perspectives, and recommendations on how we can more effectively confront inequality and foster a culture of equity.
---

Karina Castagna – SVP of Access and Adherence

With nearly 20 years of experience in healthcare, Karina has dedicated her career to helping patients overcome the obstacles they face when accessing the therapies they need.
Can you tell us about yourself and your work with OptimizeRx?

Happy International Women's Day! I've worked across a few different pillars including payers, healthcare, technology consulting, and biotech, to name a few.
My true passion lies in helping patients overcome the obstacles they often face when trying to access necessary medications in a complex healthcare system.
That's why I joined OptimizeRx. I believe we're at the forefront of using technology to help patients start life-saving medications and make it easier for doctors to prescribe them. Our team is dedicated to improving patient outcomes and enhancing the overall healthcare experience, and that's progress I'm proud of.
And can you tell us how your role at OptimizeRx improves equality for women in tech?

Absolutely, there are a few different ways to approach this. Firstly, as one of the women in a leadership role at OptimizeRx, I believe that empowering women is key to creating a different path for our external marketplace, patients, and doctors.
Fortunately, we have a strong leadership team that is truly supportive of women and their careers. I've personally experienced this support, and I'm committed to doing the same for other women across our organization. But this is just the beginning.
To promote gender equity and empower women across the board in every health tech company, it's essential to place strong women in leadership roles and provide them with the necessary support structures, mentorship, and empowerment to lead effectively and help other women climb the ladder as well.
And how does your work at OptimizeRx support gender parity?

There are a few things that come to mind. Some are more structured, and some are more organic, but I tend to focus on the latter when it comes to supporting and building gender parity. To me, gender parity is all about giving women the opportunity to grow and develop within the organization and making sure that they're recognized for their contributions.
One of the ways I do this is by hiring women on my team and providing them with opportunities to go beyond their job descriptions, in both visible and less visible roles. This helps them to be seen by our leadership team, and to demonstrate their potential for bigger roles in the organization.
I also make time to mentor other women and try to provide support for their career paths. By doing these things, I hope to make a positive impact on the culture of gender parity at OptimizeRx and help pave the way for more women to succeed in leadership roles.
Is there anything specific that you do to celebrate women's achievements and raise awareness about discrimination?

One of the ways I'm doing that is through my involvement with the Healthcare Businesswomen's Association (HBA). I'm proud to say that as of January 1st, I am the President for the West Coast Pacific region, leading five chapters across the region. HBA's mission is to advance the careers of women in healthcare, and we're achieving that by providing access to networks, mentorship programs, and valuable content on various dimensions of biotech and healthcare. We're also tackling difficult discussions on career balance and gender parity in the industry.
I think one of the biggest efforts that can promote gender parity and embrace equity is making sure women have access to the right resources and networks to help advance their careers. I'm honored to be part of HBA and to work alongside leaders from across the industry, both men and women, to drive change and bring about gender equality in healthcare.
How do you plan to celebrate International Women's Day on March 8th?

That's a great question! I may just invite a few of the women in my community over to celebrate over a glass of wine and make sure that everyone is sharing their achievements and continuing to build strong networks that will help each other advance.
---

Marion Odence-Ford – General Counsel and Chief Compliance Officer

With her extensive experience in the legal field, Marion Odence-Ford is dedicated to maintaining a strong company culture in her legal and compliance work.
Can you tell us about you and your role at OptimizeRx?

My name is Marion Odence-Ford, and I serve as the General Counsel and Chief Compliance Officer for OptimizeRx. I'm responsible for all things legal, including general corporate matters, mergers and acquisitions, securities, compliance, and more. It's a job that I love because it allows me to ensure that we're doing things the right way, both for our company and our customers.
One of my main responsibilities as General Counsel is overseeing all legal documentation, policies, and contracts. I work closely with our customers and vendors to ensure that we're meeting all legal obligations and acting responsibly in all our business dealings.
As Chief Compliance Officer, I'm also responsible for making sure that we're compliant with all necessary regulations. This includes overseeing IT security compliance with our fantastic IT team, privacy compliance, and regulatory compliance. My work revolves around ensuring that we're doing things the right way and staying up to date with all the latest regulations.
I also oversee our Human Resources Department, which means that I get to help shape our company culture and make sure that we're all working together in a positive and productive environment.
Is there anything specific that you do to celebrate women's achievements and raise awareness about discrimination?

I feel like I'm in a great place. Throughout my career, and especially now as part of the OptimizeRx executive team, I'm passionate about making sure women's voices are heard and valued in our company.
I've had the pleasure of working with so many incredible women, and it's been a true joy to help them improve their skills, advance in their careers, and support their personal growth. I make it a point to regularly check in with the women on our team and let them know that I'm here to support them in any way I can.
As someone in a position of influence, I feel a strong responsibility to advocate for women and ensure that they have the same opportunities for growth and success as everyone else. Plus, I'm always happy to mentor and offer advice to any of the legal professionals with whom I've worked in the past.
How do you plan to celebrate International Women's Day?

Well, aside from my work, I always try to send a message to the company on behalf of the women who work here, including shout-outs. I also reach out to the women in my life who inspire me, like my mother, who has been an incredible influence on me. And let me tell you, my two daughters are an absolute force to be reckoned with! They're twins who are embarking on their own journeys, and I couldn't be more proud of them.
Is there anything else you'd like to say on the subject of gender parity?

Unfortunately, the reality is that in many professional settings, women have to work a little harder to get where we want to be. But we've learned this lesson early, and we know how to persevere. That's why I'm so proud of all the amazing women at OptimizeRx. My message to them is simple: keep going, take risks, and be brave. And if you ever need help, don't hesitate to reach out.
---

Sheryl Kearney – Director of Human Resources

With over a decade of experience in human resources, Sheryl Kearney is passionate about creating a fair company culture and making sure all of our team members are taken care of.

Can you tell us about you and your role at OptimizeRx?

When I started here, we didn't have anyone filling the role of HR yet, so I actually created our HR department, which was a really exciting challenge.
I've been working in human resources for 11 years now and I got my degree in human resource management from Grand Valley State University. I started my first HR role before I even graduated, back in 2012. I had a great mentor who allowed me to just dive in. I've worked in a variety of industries since then, from manufacturing to retail to life sciences, which is where we are now.
I like to think of myself as a "Jack of All Trades" when it comes to HR. I've done everything from payroll and benefits to performance management and employee engagement. But one of the things I really enjoy is building relationships, developing employees, and ensuring all employees have a voice.
A big part of my day-to-day work involves talking with individuals and listening to their concerns. Sometimes there is a perception that male employees always get pay raises or certain perks, or female employees don't have the same opportunities. I always try to listen and then take action to address those concerns. Sometimes it's just a matter of providing more information or clarifying the facts, but other times we need to step in and make some changes to ensure transparency and equality.
What do you do to raise awareness about gender discrimination?

When it comes to dealing with discrimination, we have a committee in place to investigate and take action if necessary. But the truth is, it's not something we've seen here. Many times discrimination can grow from a lack of understanding or awareness, so I always try to address those concerns head-on before they become a problem.
How do you plan to celebrate International Women's Day?

My goal is to recognize and appreciate all the hard-working individuals who come to the table with great ideas and keep the momentum going every day. We want to make sure that all the women in our company feel valued and heard, not just the leaders. I have some ideas brewing though!
In my personal life, I have some friends who are in leadership roles, but they don't always feel recognized for their accomplishments, especially compared to their male counterparts. So, I want to celebrate their successes and acknowledge their achievements. Maybe we have some wine together!
Is there anything else you'd like to say about OptimizeRx's Gender Parity Pledge?

Our Parity Pledge is focused on improving our internal hiring practices, but we're not stopping there. We're taking it up a notch by expanding it to our board of directors. This means we'll have a more diverse group of people helping to guide and steer OptimizeRx towards our next level of success. I think it's important to highlight that we're not just focused on the present, but we're thinking ahead and taking steps now to ensure we're on the right track.
---

Maria Cipicchio – SVP of Marketing

With over 15 years of healthcare experience, Maria Cipicchio's passion and dedication to making a difference is truly inspiring.
Can you give us some background on you and your work at OptimizeRx?

I lead marketing and sales operations at OptimizeRx. I started my career in printing and traditional direct-to-consumer agency work before moving to healthcare. In my previous roles at Dana Farber Cancer Institute, BBK Worldwide, and Decision Resources Group (now part of Clarivate), I focused on development marketing work, patient recruitment for clinical trials, and commercialization of pharma and medical technologies.
As far as my role at OptimizeRx is concerned, I've been thinking about our organization's role in promoting health equity and gender parity. What impact should we have on the healthcare industry? As an organization not on the front lines of care delivery, it can be challenging to understand our role, but we can still make a difference by finding our way in and understanding the potential and possibility. I hope this year to start a dialogue with our manufacturer customers around their health equity goals to see where we can potentially aid their efforts.
The question of what impact organizations hope to have on health equity came up at a recent MM+M roundtable and made me realize how many folks don't really have an answer on behalf of their organizations. I want to change that here at OptimizeRx.
Another theme that emerged from the roundtable was the disconnect between senior leadership and those involved in the day-to-day execution of health equity goals. Many employees felt that senior leadership had set goals without providing the tools to achieve them. That helped me think about the type of focus I'd need to ensure I'm learning from the missteps of other organizations as I raise the visibility of health equity internally here.
Is there anything specific that you do to celebrate women's achievements and raise awareness about discrimination?

I would say participating in OptimizeRx's Diversity, Equity, and Inclusion (DEI) committee and making sure we have a good strategy for setting goals around gender parity and health equity.
How do you plan to celebrate International Women's Day?

Our DEI committee is planning an internal event this month. We're doing an interactive virtual experience, "She Innovates" with Unexpected Virtual Tours (UVT). We're very excited about the tour; it includes live character tour guides sharing stories of female leaders, inventors, and artists from the 1800s to present day. Our team can also play "Historic Shark Tank" and see important sites of women's suffrage with a live-streaming tour guide in Chicago. I think it's going to be really uplifting to see how female invention occurred through persistence and perseverance of incredible female leaders.
---
OptimizeRx's Gender Parity Pledge

At OptimizeRx, we're committed to increasing opportunities for women in leadership and creating a culture of equity and inclusion that benefits everyone. For my part, I am a champion of transparency and accountability. I believe we can make a meaningful impact on women in the healthcare industry by working organizationally to hold ourselves to quantifiable hiring standards and ensuring that our organizations have visibility on our performance there.
We're excited to continue our work towards equity and gender parity, not just on International Women's Day, but every day at OptimizeRx.
---