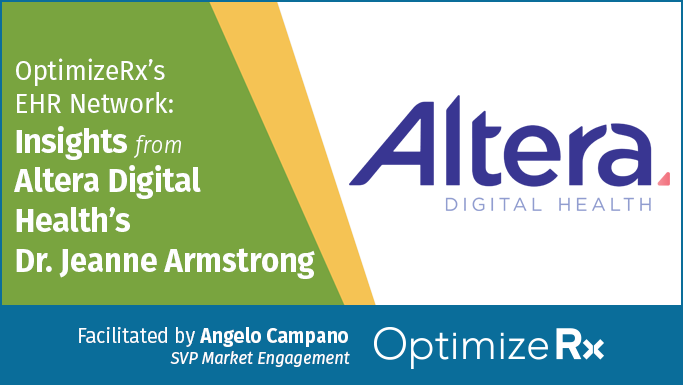 With life science manufacturers' interest in EHR-based solutions for HCP engagement growing, navigating recent market growth and companies' claims about EHR network access can be difficult. Without guidance, brands can invest in underperforming or inefficient solutions, creating a negative brand experience with low-value content.
But what should life science brands consider when investing in these channels? OptimizeRx's EHR network content series is designed to help marketers enhance the physician workflow by delivering treatment resources at the point-of-care and explore why EHR and e-prescribing companies join a network like ours.
In our latest EHR interview, I spoke with Dr. Jeanne Armstrong, Chief Medical Officer at TouchWorks, an Altera Digital Health solution. The TouchWorks® EHR platform comprises clinical, operational and wellness solutions for medium to large, single- or multi-specialty physician practices, MSOs and IDNs, as well as for safe care and success in population health initiatives.
An Introduction to TouchWorks EHR, an Altera Digital Health Solution

Jeanne, welcome and thank you for joining me today. Can you give us a little bit of background on your experience and what you do for TouchWorks EHR?
My name is Jeanne Armstrong, and I serve as the Chief Medical Officer for TouchWorks EHR. I specialize in ambulatory or outpatient product offerings. I'm a board-certified in family medicine and clinical informatics. Most of my practice life has been in an urgent care setting, but in more recent years I have been in an urgent care setting for both traditional care delivery and telemedicine.
Can you tell me about TouchWorks EHR and how it fits into Altera's service offerings?
Together with our clients, I believe we are truly ascending to new heights in healthcare. We do this by providing innovative clinical electronic health records [EHRs] as well as financial, operational and population health management solutions.
Altera Digital Health was co-created by clinicians, digital experts and business leaders. We partner with and serve client organizations of all sizes, but Touchworks EHR itself serves many large, multi-specialty groups, and its users are the stalwarts of ambulatory care. That said, it's not always a one-to-one relationship between hospitals and ambulatory practices. In a lot of places, we have users that are also using other Altera EHR systems such as Sunrise™ and Paragon®, as well products from other vendors, which make them really savvy users.
From your perspective, what is it like working with OptimizeRx? What is the benefit of life sciences content in your platforms for provider and patient audiences?
Information—and access to this information—is growing exponentially. You've probably seen the number of articles you'd have to read per day just to be behind—not caught up, mind you, to still be behind. With the pace of the release of new information accelerating, treating the patients we see in the ambulatory setting is getting more complex, and the number of patients we see in the day is also increasing.
For example, medication management is becoming an increasingly complex and challenging task for providers due to the expanding amount of information they need to process. To make the job easier, physicians often need payer life science tools that are integrated into their EHR. These programs provide contextual insights and help providers determine if a medication is suitable for a patient at the point of care. Such tools have proven incredibly valuable in saving time and increasing efficiency in medication management.
As a provider, you have to put those elements together, and you're always short on time. With so much new information coming out constantly, it's crucial to be able to operationalize it. And for me, and many other physicians, that means the information should come to me at the right time when I need it. That's one of the benefits of the OptimizeRx programs being part of my EHR. When context and insights on treatments is provided at the point of care, it really helps me determine if a certain medication is a good fit for a patient. The level of efficiency is incredibly valuable.
Thank you for the insights! Based on your experience in both your practice and as part of Altera, how do you see life-sciences sponsored content being used by physicians?
Life-sciences sponsored content can be an invaluable asset for physicians looking to stay current on the latest treatments, clinical guidelines and programs that benefit patients. These programs can alleviate the workload of the care team while also providing cost savings and access to educational resources.
Life-sciences sponsored content also provides actionable knowledge about health conditions and treatment options that can help physicians give tailored advice to their patients. It is essential that this information is available at pivotal points in the patient workflow, so providers have all the tools they need before making crucial decisions. Working with companies like OptimizeRx ensures healthcare professionals have access to these resources through their EHRs. Even when the value is clear, there are a lot of new nuances to implementing the information in a way that's going to have the desired effect. Working with experienced partners makes all the difference in realizing the promise that point-of-care tools provide.
Does the specificity of how you deliver manufacturer information in the workflow matter, or is it better to keep it broader?
Yes! The way manufacturer information is delivered in the workflow is of particular importance. It's important to consider the specific EHRs and their screen designs as well as how items are named and labeled. There's also a need to tailor messaging to how often a drug is prescribed, used and monitored. The right information and the right time and in the right place will greatly improve adoption. When presented aggressively or in a way that interferes with providers' workflow, such messages are likely to be ignored, often due to frustration. To ensure success, it's important to understand what outcome is desired, and then find a method that does not interrupt the provider's workflow. This approach enables brand messaging to be seen in an easily accessible place without disrupting providers' work.
So how are you managing the interest levels from manufacturers, and making sure it's not distracting from the workflow? Is there a vetting process for that?
That is a great question, because I think it's changed over time. In the early days of some of these programs, our clients might have been more resistant to these types of tools. But today, if I used an EHR that didn't have those kinds of support elements, I'd probably be a little critical of it.
We consider the clinical benefits, who it serves and any potential risks associated with it. If there isn't enough value to be had, we won't pursue these types of programs. What matters most is finding a balance between meeting the needs of our clients and their patients. Value always remains at the center of any decision-making process.
Clients come to EHR vendors with needs, but patients come to physicians with needs. The most value lies in balancing those two needs, by asking: What are the benefits? Ultimately, value is always the determining factor.
What advice would you give life-sciences companies entering into the EHR point-of-care space that want to provide content and build awareness with their providers
Earlier I mentioned that not all EHRs are the same. They have different client bases, and they're attractive for different reasons. I think at last count there were roughly more than 500 electronic health records. That's a huge number. In top-tier EHRs like TouchWorks EHR, there are different bases being served. If you have a very niche project, then you want to choose an EHR that's going to have more people who can take advantage of that because it does come back to that value.
Ultimately it helps to be honest with each other. You want to understand the EHR you're choosing. Be forthcoming in your questions, needs, timelines and expectations to make sure it's the best partnership.
As the EHR vendor, we're often asked for a lot of data. When you have many large clients like we do at TouchWorks EHR, that data belongs to the client. There are moments when the payer life sciences companies are a little off-put by that, and respond with things like, "Well, I can't just tell you how many orthopedic surgeons I have."
Because those are on-premises solutions, I can tell you something like "this many clients have orthopedic surgeons," but we can't always provide that kind of data so quickly. But that doesn't mean there's not a great opportunity to try to deliver.
Thank you for your time and sharing your perspective with us. Is there anything else you'd like to add?
I think there's value in our industry moving away from thinking of an EHR as a single product. At Altera, we've adopted a Platform of Care approach. We call it a "Platform of Health" because we don't think a single solution alone is what will drive patient care. Organizations bringing the most value to organizations are providing physicians with intuitive technologies to deliver better and more comprehensive care. It's an exciting time to be involved with a lot of these projects, because you can see how our industry is more open to bringing them all together to serve physician and patient needs more efficiently.
---
See the results OptimizeRx's platform and partner network have delivered for our clients
---
OptimizeRx Guest Contributor
OptimizeRx Corporation