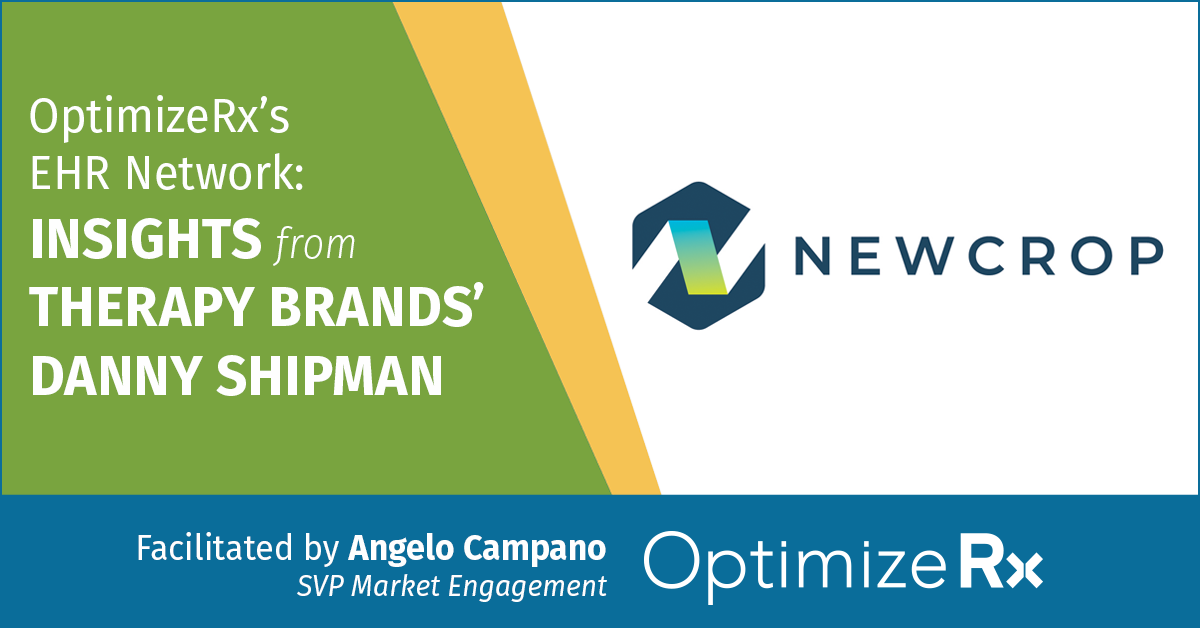 Life science manufacturers' interest in EHR-based solutions for HCP engagement continues to grow. But with companies' varying claims about EHR network access and reach, brands may unintentionally invest in solutions that lack relevant content and are inefficient for their needs.
In our new content series, OptimizeRx and our network partners are working together to help marketers navigate the market with transparency and provide a better understanding of how delivering resources directly in the EHR enhances the physician workflow and supports quality care delivery.
In the latest installment of our behind-the-scenes content series, I spoke with Danny Shipman, Executive Vice President of Value Added Solutions at Therapy Brands, a healthcare technology company developing management software for mental, behavioral, and rehabilitative therapy. NewCrop, their EHR-based e-Prescribing platform has been part of the OptimizeRx network since 2019. As an experienced product manager of healthcare technology platforms, Danny has overseen Therapy Brands' EHR integrations and technology innovation initiatives.
An Introduction to Therapy Brands and NewCrop

Danny, welcome and thank you for joining me today. Can you give us a little bit of background on your experience and what you do at Therapy Brands?
My career started in the training field, implementing EHR networks at a variety of practices across the nation. I highly recommend that path to anyone who is interested in working in the life sciences industry, because there's no better way to learn about your customers than seeing them implement and use your technology. From there, I transitioned into product management with Greenway Health, where I worked for over eight years. I ran their clinical departments, which consisted of three EHR platforms and various add-on solutions.
From there, I transitioned to Therapy Brands, a healthcare technology partner for mental, behavioral, and rehabilitative therapy. We provide purpose-built practice management, data, and billing solutions that we offer vertically across our EHR practice management systems. I currently manage our Value Added Solutions segment as executive vice president. We also have more independently marketed digital solutions like NewCrop.
Could you give us a high-level view of NewCrop and how it fits into the EHR market?
NewCrop is an e-prescribing platform with a variety of add-on capabilities that we've continued to develop over the years. We emphasize partnerships with EHRs in order to serve healthcare providers of all specialties, in both the acute and ambulatory care setting. Our platform integrates very tightly into the EHR system, so from the end-user or physician perspective, it appears as one system. We provide e-prescribing and real-time benefit access, in addition to life science manufacturer content from our partnership with OptimizeRx.
The EHR Ecosystem

What does your platform ecosystem look like in terms of EHR partners?
Our aligned goal with our EHR partners is to try to give our end users the broadest access possible to real-time data and benefits through a single platform that serves as a conduit to 100% of the payers in the market. In a similar fashion, by working with partners like OptimizeRx, we're also able to be a single conduit to as many life science manufacturers' content as possible.
Over the past few years, we've seen the market evolve towards aggregators of life sciences content that have established a network for us. Through companies like OptimizeRx who have layered on some of the available technology and intelligence, we can easily work with fewer partners to put critical information in front of EHR users – at the right time, in the right place. Our partner list has constricted quite a bit over the past few years, which we consider to be a positive change; we can achieve the same scale and breadth while focusing more intently on enhancing our ePrescribing platform and practice management products.
When a clinician is using your technology, are they aware they're using a Therapy Brands platform or do they think they're using their standard EHR? Do they see it as one solution?
It depends on the EHR, typically. Some of our EHR partners prefer to ensure that all of the initial points of contact with their customers, what we call tier one interactions, are managed by their support teams. They engage with us as more of a tier three solution, where we provide more user interface and platform-specific support further down the line. Everything is white-labeled. Other EHR partners may not have as sophisticated of a support ecosystem, or may want their customers to know they've partnered with us for a variety of reasons, so it really depends on our clients' needs.
I think most clinicians know that we're present. For example, when prescribers register in the SureScripts™ network, that ultimately goes through us. They'll see our name there, and typically ask their EHR vendor about NewCrop.
In terms of integrating with larger EHR partners, what does that look like for your team? OptimizeRx is often asked if we reach certain EHRs, and in many cases we do, but not in the way our clients expect. Would you be able to shed some light on that process?
In the technology landscape, there are two categories. You have what I consider to be the core solution set: scheduling, intake, clinical documentation, billing, and base reporting workflows that are fundamental needs for all physicians across all specialties. This is typically what you find in an EHR system.
Then there is the value-add solution set, which is an array of technologies such as telehealth, e-prescribing, decision support, and advanced analytics; features that typically serve a more narrowly defined market segment and problem. NewCrop provides solutions for both categories.
For example, not all physicians write prescriptions, so from that perspective, we wouldn't be a fundamental core solution for all physicians in all specialties. But for physicians that do write prescriptions, e-Prescribing capabilities are absolutely a fundamental clinical documentation need. For those physicians that do write prescriptions, we partner with their EHRs to become a part of their core solution set, integrating seamlessly.
For context, we have approximately 150 EHR customers as our primary market channel, and well over 98% of our prescribers that use NewCrop on a daily basis are doing so via their EHR.
Physicians know they're using a different product if the EHR has decided to leverage our channel to augment their support, or if they choose not to white-label our products. Most of our partners do white-label our screens and have their own support functions, so usually, we serve them as more of a B2B, tier 3 type of support.
Thank you for the insight. As I mentioned, we are often asked if we work with certain EHRs, as our clients' field teams will see what platforms their doctors are working with, and don't always know that technology like yours is integrated there. But physicians are getting access to the resources that the manufacturers are providing through NewCrop. So as a follow-up question to that, why do your EHR customers use NewCrop? What are your key differentiators compared to your competitors?
NewCrop has always been known as being very user-friendly and intuitive. The platform was originally built by an actual physician as part of a side project for a large health maintenance organization (HMO). The initial goal was to build out more efficient workflows to help manage a variety of processes, and it evolved into an e-prescribing platform.
In terms of our biggest differentiators, our commitment to prescription network quality, specifically prescription accuracy and interoperability, is what sets NewCrop apart. While technology is prevalent in health care today, there's still a degree of communication that still happens over the phone or via fax. Through our participation in quality initiatives with SureScript™, such as RxChange, for example, we enable fully electronic communication that gives better documentation, better traceability, and ultimately eliminates the time a staff member spends on the phone with a pharmacy.
Other initiatives like codified Sig, for example, promote prescription accuracy by eliminating free text format and replacing it with a structured sig concept. We provide clear language and extensive concept validation which allow for efficiency gains on both the front and back ends. For example, prescribers are able to very quickly write prescriptions without any kind of confusion or ambiguity, which then eliminates follow-up calls to the pharmacy seeking clarification for unclear dosing instructions. We spend a lot of time in that area, and it shows in the overall quality of the platform.
Ensuring Content Relevance and Seamless Integration

Life sciences content needs to be delivered at many different points in the workflow. What are you hearing about the type of content and information your audience prefers? What has clinician feedback been like?
The most beneficial content is what's relevant to the patient, and the condition being treated, which can be tough to box in, so to speak. But that's precisely why we partnered with OptimizeRx. Through our integration with your solution, we're able to pass you real-time patient and prescription data that you then take and present back as relevant information to the patient and condition being treated.
As far as content is concerned, in many instances it's coupons or affordability items or things that make the medication more accessible to the patient: adherence programs and therapeutic support. It's a myriad of solutions or content, but the key is that it's relevant to the medication the patient is either about to be prescribed or is currently taking, and the service that's about to be prescribed.
Looking back to three to five years ago, that contextual type of content wasn't provided; the content then centered on medication, without much info about the patient or the health care provider. It was more like a data dump that we had to find ways to present to our consumers. But now, we have the capability to build on relevant data before we even get the content itself. OptimizeRx serves as the initial quality assurance, so to speak, to ensure that the data we're getting isn't just relevant but also appropriate for what's happening in the care journey at that time.
Having relevant content readily available directly in the platform is the primary reason why we chose to move forward with OptimizeRx. As we look at the landscape and evolution of this type of solution over the years, the key is always going to be "right information, right place, right time."

Danny Shipman, Executive Vice President, Value Added Solutions, Therapy Brands
Are there ever any concerns about content relevancy for clinicians?
If we look at the roles and responsibilities of the value chain, it falls squarely on our shoulders to ensure that once we've gotten that relevant information from OptimizeRx, NewCrop presents the data in the right place, at the right time within our application. We spend a lot of time soliciting end-user feedback on our designs and our workflow to ensure that where we place this information is appropriate, and that it's not obstructive to the clinical workflow.
For example, if there's a coupon available, we don't bombard physicians with banners or pop-ups. There's just a simple little indicator next to the medication that says "hey, a coupon might be available if you want to take a look." The user can take action or just continue moving forward with the prescription. Of course, we do have the banner real estate on the screen, but it in no way obstructs the clinical workflow and is populated with only relevant information. We stay closely attuned to this, and ensure that the feedback loop is open for the customers to make changes, so it hasn't been a source of contention. Rarely, if there are prescribers that find the information not to be relevant, they can always deactivate that in their administrative settings. But that's not something we've really seen our users choose.
Life Science Innovation for ePrescribing Platforms

Can you provide any insights on the trends you're seeing in our industry, particularly in the past few years since the pandemic started?
The trend that jumps out at me the most is the pandemic-fueled revival, so to speak, of the internet of things and the remote monitoring movement. Circa 2015 this was the next big thing - everyone was going to have all these medical devices strapped to them, tracking all kinds of metrics, and then it was going to enable all sorts of patient engagement and predictive insights. But then we saw a period of stagnation. What I think happened is that physicians more or less remained ambivalent to their utility; they either didn't trust the data, or just didn't understand how to make it a part of their care delivery strategy. Ultimately what we saw with the pandemic is that it really necessitated remote care delivery. It's been interesting to see this momentum continue, even as the world has returned to some semblance of normalcy.
What are some of the innovations you're working on?
We just launched a series of quality initiatives with SureScripts™ that we're pretty excited about. We're codifying and automating quality units of measurement with these further advancements: as well as RxChange and the codified Sig I mentioned earlier. In this new program, essentially you write up your own proposal, along the lines of "hey, we're going to focus on these areas that we think are going to improve overall network quality. Here's the KPI we're going to track." And they partner with us to launch that, track those KPIs and demonstrate that it did actually have the hypothesized impact of improving quality. That's a big area of focus for us this year, and I'm hoping that we see some tangible improvement in those areas and determine what our next phase is.
Are there any physician needs or gaps that are ready for further innovation?
The biggest focus is on a problem we haven't solved yet. Part of our strategy is trying to push forward the realm of business intelligence and predictive insights, as we've only begun to scratch the surface of what can be done in those areas. We provide reporting, but not necessarily insights and analytics, so that's a key area of innovation for us. We're a pretty large company, and we have many different platforms with a lot of data. We're trying to figure out how we can aggregate all that data into a data lake, and then layer on some intelligence to really help our providers manage their businesses and provide better care.
Are there any misconceptions that you've heard in the market or things you think that life science manufacturers are interested in, but are not a reality on your platform?
The biggest misconception we see is the negative connotation that tends to accompany the phrase "sponsored content". Something we try very hard to educate and inform our market against is the notion that if someone's making money, then it's bad, which isn't true. For most of our work, we have to make money or we can't do it. We hone in on the fact that the content we're putting in front of them, while it is form of paid advertising, does provide a net benefit to the patient and the provider as well. We work very hard to layer in quality gatekeepers, to ensure that the data we're putting in front of them is only relevant content that doesn't obstruct the clinical workflow. The more our industry can seek to correct that notion and ensure that providers know that – while yes someone is making money out of it – it is actual meaningful content that can provide a net benefit to their patients.
Thank you, Danny. Is there any advice that you'd give to someone who's just getting into the space for the first time, and wants to do some advertising on your platform?
Find a partner with an established network! we've always found that working through a single conduit, provides the most efficiency, as the more integrations and interfaces we have to manage, the more complex our work becomes, and the more resources we have to dedicate to maintain it. That's why we value in having OptimizeRx as our partner; it makes it very simple for life science resources to reach our users. So, to the extent that you can partner with single provider to access their network, that simplicity can really knock down the barrier to entry in point-of-care physician communications.
---
See the results OptimizeRx's platform and partner network have delivered for our clients
---
OptimizeRx Guest Contributor
OptimizeRx Corporation