There are increasing financial costs across every facet of the industry—from high-deductible health plans to prescription drug costs.
With patients shouldering these financial burdens, the industry must consider:
What role do providers play in supporting drug affordability and adherence?
OptimizeRx conducted a survey of fellow physicians (members of their OptimizeMD panel) to learn about their perspectives on the affordability of prescription drugs and patient adherence to prescription regimens.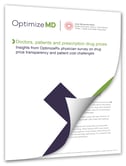 Download a copy of the results today